G20 Task Force To Study Libor Reform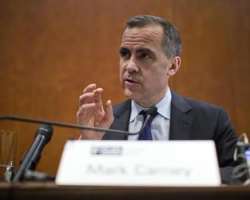 MARK CARNEY, BANK OF CANADA GOVERNOR AND CHAIRMAN OF THE FINANCIAL STABILITY BOARD
The Financial Stability Board, which sets rules for global banks, will set up a task force to look at reform of Libor after a scandal in which three banks were fined for rigging the global interest rate benchmark.
FSB Chairman Mark Carney said the steering group will report back next year on whether the benchmark should be changed and over what period, based on new international standards expected from the IOSCO group of securities regulators next month.
"What has to be taken into account is the robustness of the standard," Carney told a news conference after a FSB meeting. "We have to recognize that even some transactions benchmarks could be manipulated, it depends on depth of the market."
The steering group will be co-chaired by Martin Wheatley, chief executive of the UK's Financial Conduct Authority, and Jeremy Stein, governor of the U.S. Federal Reserve Board.
The group would also be considering ease of transition and transition costs and noted there were considerable efforts already underway to improve the London Interbank Offered Rate (LIBOR), used to help price products worth over $300 trillion.
An affiliated market participants group will review options for robust reference rates.
The FSB is tasked by the Group of 20 leading economies to coordinate regulation after the financial crisis and Carney said some parts of the financial system have not been fully repaired.
Global markets have fallen in recent days after Federal Reserve Chairman Ben Bernanke said last week the central bank expected to reduce its bond-buying later this year and halt the stimulus program altogether by mid-2014.
"What we have been urging supervisors to do... is managing their risk positions, looking at stress scenarios when there is material increase in volatility ... because eventually across all major jurisdictions the objective is to move away from exceptional emergency accommodation," Carney said.
The FSB, which met on Monday, discussed liquidity developments in all major global markets, including China where there are fears of a credit crunch. China's central bank said on Tuesday it would guide market rates to reasonable levels and manage liquidity in a flexible way.
"I would say the authorities have the situation well in hand," Carney said of China.
INSURER SUPPLEMENT
The FSB has already required 30 or so of the world's top banks to hold extra capital from 2016 to ensure taxpayers won't have to rescue lenders again in any future crisis.
Carney said the board is now finalizing which insurers will be deemed globally systemic (GSIs) and will name them in July.
Carney said those named will have to hold a capital "supplement" above a certain backstop level.
"It is possible that an existing insurer has capital above that supplement level so there is no additional capital requirement for that insurer but that calibration work remains to be done," Carney said.
Regulators will develop the backstop capital requirements to apply to all group activities, including non-insurance subsidiaries, by the G20 summit in 2014.
Carney also set a September deadline - date of the next G20 summit in Russia - for global derivatives regulators to resolve disputes over new cross border rules to make the sector safer.
REUTERS