Boko Haram Kills Nine NECO Students, 13 Others In Borno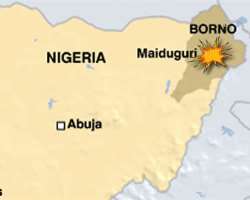 SAN FRANCISCO, June 18, (THEWILL) – Barely a day after gunmen suspected to be members of Boko Haram unleashed terror on a secondary school in Damaturu, the Yobe State capital, killing seven students and two teachers, the insurgents struck again in Maiduguri, the Borno State capital, on Monday, killing nine students sitting for the ongoing National Examination Council (NECO) examination at the Ansarudeen Primary/ Secondary School located in the Jajeri ward of Maiduguri metropolis.

Eyewitnesses said the gunmen, who arrived at the school at about 3pm, opened fire at the examination hall few minutes after the examination started, a situation which made the other students and invigilators to scamper for safety.

Not yet done with their bloody acts, the gunmen also stormed the neighbouring Alau Dam village on the outskirts of the state capital, where they killed 13 persons, including some fishermen and a tea vendor.

The gunmen were said to have released volleys of gunshots on their targets as they shouted : "You are those exposing our activities to security agencies, today your days is over, as we will kill all of you."

Sources said the gunmen specifically came after some youths from Gwange ward of Maiduguri who had gone to Alau Dam to buy fish for their domestic consumption. The youths were said to have been assisting security operatives with information to smoke out the remnants of Boko Haram members in the town.
"One of my neighbour was among the 13 people killed by suspected Boko Haram in Alau Dam on Monday. It was yesterday after Magrib (evening) prayers that the news of the killings filtered to our communit," a resident of Gwange and a neighbour to one of the slain victims, Mallam Mohammed Musa, said.
The killings followed a similar attack last Thursday on Gwoza hill during which a Pastor was killed and four churches burnt down by the insurgents.

The fresh wave of killings are however becoming a source of concern to residents of Maiduguri who are now calling on the security agencies to allow telecommunication operators resume their services after almost a month of total blackout since the emergency rule started.