FG Drops Charges Against 8 Russian Sailors For Alleged Unlawful Importation Of Arms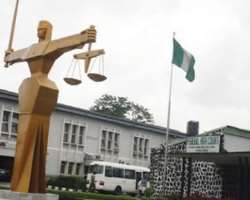 The Federal Government on Tuesday dropped the charges against eight out of the 15 Russian sailors charged with unlawful importation of arms into Nigeria.
They are  Zhelyazkov Andrey, Savchenko Sergel, Lopatin Alexey, Baranovskly Nikolay, Llia Shubov, Dimitry Bannyrh, Alexander Tsarikov and Kononov Sergel.
The 15 sailors had appeared before a Federal High Court, Lagos, on a four-count charge for allegedly importing firearms to Nigeria, as well as the refusal to disclose contents of the vessel.
However, the prosecution said it would proceed with the trial of the remaining accused, including, Chichkanov Vasily, Varlygin Igor, Komilov Alexander, and Mishin Pavel.
Others are Korotchenko Andrey, Vorobev Mikhail, Stepan Oleksiuk and their vessel, "MV Myre Seadiver".
When the case was mentioned, the prosecutor, Mrs Jane Igurnumbe, informed the court that the charges had been amended to drop eight of the accused as they were not arrested on the vessel.
According to her, the remaining sailors will be prosecuted alongside their vessel.
The prosecutor also prayed the court to withdraw the name of the vessel 'MV Myre Seadiver' from the charge, and replace it with its owner 'Moral Security Group Limited'.
Counsel to the accused, Mr Chukwuwinke Okafor, however opposed the application, stressing that the prosecution had exhibited lack of diligence in prosecuting the case.
In his ruling, Justice James Tsoho granted the prosecutor's prayer, but ordered the prosecution to serve the accused with proof of evidence on the issue of substitution of vessel.
He adjourned the case to June 21, for mention.
NAN recalls that when the accused were first arraigned on Feb. 19 before Justice Okechukwu Okeke, they pleaded not guilty.
Okeke had released the defendants on bail to the Russian Ambassador in Nigeria, while the vessel was admitted to bail in a bond of $500,000.
At their arraignment, the prosecutor, Mr Ernest Ezebilo had told the court that the defendants were arrested with their vessel by naval officers on Oct. 18, 2012, in Lagos State.
He said that the defendants had entered the Nigerian territorial waters with their vessel, without due licence and clearance from the Nigerian Customs Service.
According to the prosecutor, the accused had also refused to declare the content of the vessel contrary to the provisions of the Customs and Excise Management Act.
He said that when the vessel was arrested and searched by the naval officers, a cache of firearms and ammunition was discovered in it.
He said the alleged offences contravened the provisions of Section 27 of the Firearms Act, Cap F28, Laws of the Federation of Nigeria, 2004, and the Miscellaneous Offences Act, Cap M17 Laws of the Federation of Nigeria.
The offence attracts a penalty of not less than 10 years imprisonment.