Ochei Justifies N1m Investigative Journalism Prize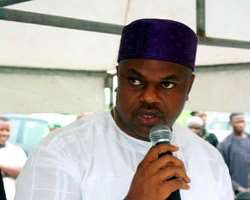 The Speaker of the Delta State House of Assembly, Rt. Honourable Victor Ochei, has justified the annual N1m prize for the best investigative journalist in Delta State saying, the need to reposition the media for greater challenges through veracious reportage, prompted the gesture.
The Speaker, who had earlier on during an interactive session with journalists as part of activities marking the second anniversary of the Fifth Assembly of the Delta State Legislature, challenged the media to eschew speculative journalism, which according to him lacks the essentials for societal development.
Hon. Ochei further urged media practitioners to embrace factual reportage, as against sensationalism, adding that while truthful presentation stands the test of time, fallacious journalism pales into insignificance, which in the final analysis, takes the journalism profession to task.
According to him, 'Journalists as members of the fourth estate of the realm and dependable partners to government owe it a duty to society to always present facts as they are, in line with their expected functions in any society.'
The legislator also pledged to assist the media in ensuring that prospective winners of the prize will be afforded the opportunity to improve on their skills by way of trainings, which will offer them a platform for global recognition.