Dollar Firms As Fed Meeting Nears, Shares Bound Higher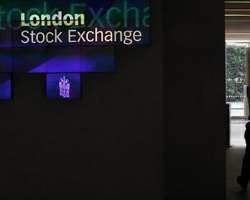 The dollar edged up against the yen and euro while European and Asian shares recouped some of last week's losses on Monday, as investors hunkered down for the U.S. Federal Reserve's meeting later this week.
Uncertainty over the Fed's future policy course has triggered a sharp sell-off in broad risk assets in recent weeks and investors are hoping for some clarity on its intentions when it concludes a regular two-day meeting on Wednesday.
After a 2.7 percent jump in Japan's Nikkei .N225 had lifted Asian markets, European shares .FTEU3 headed towards mid-morning up 1 percent. London's FTSE 100 .FTSE, Paris's CAC-40 .FCHI and Frankfurt's DAX .GDAXI all climbed between 0.7 and 1.5 percent. .L.EU
Markets appeared to be largely putting aside last week's concerns about a reduction in Fed stimulus and settling on the view that it will stress its intention to take a cautious approach to moving down the gears when the time comes.
The dollar .DXY was broadly stronger as a result although it was starting to flag. The jump in the Nikkei had seen the yen fall back to 95 yen to the dollar from a two-month high hit last week, while the greenback was up at $1.3339 per euro but had begun to slip.
"I think Bernanke is going to stress that any tapering off of the Fed's QE programs will be dependent on the data flow but that it is still too soon at the moment to reduce the purchases," said Peter De Bruin, a senior economist at ABN Amro.
That message should calm markets, he added.
Financial markets have always known that the Fed would have to start withdrawing its stimulus once the U.S. economy was out of the emergency ward, but Bernanke's comments on May 22 that the bank might 'take a step down' in the pace of bond purchases in coming months still came as a shock.
The positive side for investors is that it shows the global economy is gradually recovering.
Data on Monday showed German wages rose at their fastest pace in almost four years at the start of 2013 while euro zone exports jumped in April, giving the bloc a basis for a recovery from its long recession. UK house prices also picked up.
G8 MEETING
G8 leaders are expected to touch on the debate about central bank stimulus at a summit in Northern Ireland although the troubles in Syria and corporate tax avoidance are set to dominate the gathering.
At their first private face-to-face meeting in a year, U.S. President Barack Obama will try to find common ground with Russia's Vladimir Putin after angering Russia by authorizing U.S. military support for opponents of Syria's president.
Oil prices have been pushed to a two-month high by the tensions. Though Syria is not key to global oil supply, analysts are worried the civil war there could drag in other countries and plunge the whole region into conflict.
Brent crude futures were steady at $106 a barrel while other commodity markets remained focused primarily on the Fed meeting, with copper up 1 percent after last week posting its steepest weekly decline in two months.
Debt markets were also fixated on the U.S. central bank's intentions. The German bund future was 29 ticks lower at 143.57 and peripheral euro zone bonds saw minor gains as the uncertainty capped trading volumes.
"I don't think people are particularly long of core markets after the events of the past week. Positions are a bit square, if not a little bit short, going into the Fed," said one trader who requested anonymity.
REUTERS