Mandela Responding Better To Treatment: South Africa's Zuma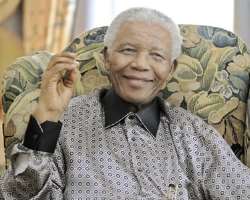 Anti-apartheid hero Nelson Mandela was responding better to treatment in hospital on Wednesday morning after a "difficult last few days", South Africa's President Jacob Zuma said.
Mandela, South Africa's first black president, was rushed to a Pretoria hospital on Saturday in a "serious but stable" condition suffering from a recurring lung infection. He was spending a fifth day under the care of its doctors.
"We are very happy with the progress that he is now making," Zuma said in a speech to parliament.
"We urge South Africans and the international community to continue to keep President Mandela and the medical team in their thoughts and prayers," he told parliamentarians who burst into applause.
Mandela's condition has reinforced a creeping realization among South Africa's 53 million people that they will one day have to say goodbye to the father of the "Rainbow Nation" that he tried to forge from the ashes of apartheid.
The 94-year-old has received visits from family members including his wife Graca Machel and former wife Winnie Madikizela-Mandela.
His family issued a statement saying they were happy with the care he was receiving and hopeful he would recover.
"We are particularly honored to have received the many prayers and messages from South Africans at large as well as the global community," grandson Mandla said outside the family home in Johannesburg.
It was 49 years to the day since Mandela was sentenced for sabotage and conspiring to overthrow the white-minority government.
Mandela has a history of lung problems dating back to his time on the wind-swept Robben Island prison camp near Cape Town.
He was released in 1990 and went on to serve as president from 1994 to 1999.
REUTERS