Hezbollah Armoury: Group Urges Jonathan To Probe Arms Influx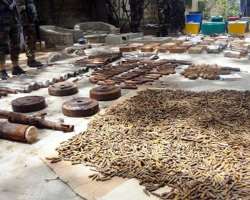 SAN FRANCISCO, June 10, (THEWILL) – As the busting of the Hezbollah armoury in Kano continues to generate ripples across the country, a non-governmental organisation, the African Maritime Development Initiative (AMDI), has called on the Federal Government of Nigeria to set up a high-powered panel of investigation into the large scale influx of arms and ammunition, including rocket launchers, into the country.

A statement signed on Monday by the Director General of the organisation, Elder Asu Beks, said the call had become necessary in view of recent discovery of a Hezbollah ammunition deposit in Kano and other ammunition factories in other parts of the country.

"AMDI wishes to draw the attention of the President Goodluck Jonathan administration to this worrisome trend and urges him to investigate disturbing news making the rounds of the possible connivance of some officials of a para-military service, whose duty is to ensure that illegal items are not smuggled into the country.

"We therefore advise the Federal Government to constitute an investigative panel comprising of officials of the Department of Military Intelligence (DMI), State Security Service (SSS), the Navy, Nigerian Ports Authority (NP) and the Nigerian Maritime Administration and Safety Agency (NIMASA), to investigate imports made through our airports, seaports and border posts.

"The Government of the United States of America (USA), has also expressed a similar concern through the United States Coast Guard to its Mission in Nigeria, and therefore calls on the Federal Government to be more pro-active on the security challenges facing the ports or risk facing sanctions which include stoppage of US and Allied vessels from sailing to Nigeria," the statement said.

The group however lauded what it described as the pragmatic manner in which President Jonathan has enforced the state of emergency across the Northern states of Yobe, Adamawa and Bornu in the wake of heightened Boko Haram activities. "We also commend the military Joint Task Force (JTF), for their display of professionalism in bringing the civilian casualties to the barest minimum," the group said, adding "We task the governors of the three concerned states to cooperate with the National Assembly, the Presidency and the JTF to ensure a speedy resolution to the crisis in the region and a return to normalcy. "