House Seeks 40% Of Budget For Infrastructure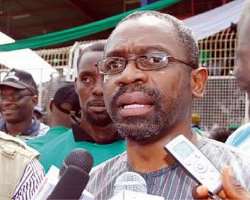 MINORITY LEADER, HON. FEMI GBAJABIAMILA
ABUJA, June 05, (THEWILL) – The House of Representatives, Wednesday, passed for second reading a Bill, which when passed into law, would compel the Executive to allocate 40 percent of the nation's annual budget to capital expenditure.
The Bill, titled the Economic Stimulus Bill, was sponsored by the Minority Leader, Hon. Femi Gbajabiamila (ACN, Lagos), who submitted that if passed, the Bill has the capacity to influence and affect the lives of the Nigerian masses positively.
The lawmakers maintained that the yearly allocation of less than 30 percent of the nation's budget to recurrent expenditure and debt servicing has not aided infrastructural development in the country and was therefore unacceptable.
In his lead debate, Gbajabiamila pointed out that the primary responsibility of government is security and welfare of the citizens, and as such, it is incumbent on the lawmakers to encourage the government to lead the country out of its developing nation status to that of a developed economy.
"Allocations of 70 percent of the budget to recurrent and overhead expenditure would not translate to infrastructural growth and development. With that, dividends of democracy can never be felt by the greater majority of our masses," Gbajabiamila explained.
Those who supported the Bill were Hon . Fort Dike (APGA, Anambra); Samson Osagie (ACN, Edo); John Eno (PDP, Cross River); Dani Kalgo (PDP, Kebbi); and Abike Dabiri-Erewa (ACN, Lagos).
The Bill however met opposition in the Deputy House Leader, Hon. Leo Ogor (PDP, Delta); Patrick Ikhariale (PDP, Edo); and Nicholas Ossai (PDP, Delta) who argued that the Bill was against the provisions of the constitution on the basis of allocation of the Consolidated Revenue Fund.
However, when the Speaker of the House, Hon. Aminu Tambuwal, who presided over the session put the Bill to questions, the ayes were in the majority and the Bill scaled to second reading.