Dell Committee Says Icahn Proposal Is Short Of Funding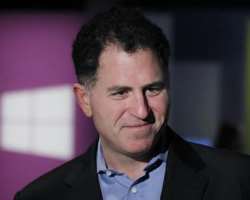 MICHAEL DELL CHAIRMAN AND CEO OF DELL INC. ARRIVES AT THE LAUNCH EVENT OF WINDOWS 8 OPERATING SYSTEM IN NEW YORK
A Dell Inc special committee said activist investor Carl Icahn's proposal for a $12-per-share special dividend is nearly $4 billion short of the financing necessary to succeed.
Dell founder and CEO Michael Dell and private equity firm Silver Lake have proposed a $24.4 billion buyout of the personal computer maker. Icahn and Southeastern Asset Management have made a counter offer that would pay the special dividend and allow Dell shareholders to keep their shares.
The Dell committee's presentation, issued on Wednesday, is the most detailed response yet to the Icahn-Southeastern proposal. The report pointed to a "significant liquidity gap" that could reduce the promised $12 dividend to as little as $8.50.
The committee recommended stockholders vote for the $13.65-per-share cash offer from Silver Lake and Michael Dell.
Dell shares rose 1 cent to $13.43 in early trade.
REUTERS