E-Learning, Digital Learning Is The Way Forward For Nigeria – Atiku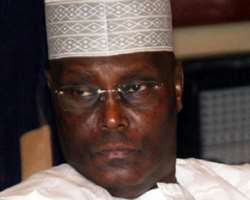 Former Vice President Atiku Abubakar has said that E-learning and digital learning is the way forward for Nigeria.
The former Vice President made the observation yesterday at the formal launching of the "Opon Imo", E-learning initiative by the Government of the State of  Osun in Ilesha.
Atiku while harping on the imperative of education in Nigeria's development stride noted that electronic learning or e-learning must be a key component of the educational mix.
He pointed out that notwithstanding the infrastructure challenges facing the country, students often express higher satisfaction from computer-mediated learning which he rated as being more effective than the traditional framework.
"In my view, our greatest asset in this country is not oil; it is not cocoa; it is not cassava or groundnuts. And I respect all our farmers and their contributions towards our development. Our greatest asset is our people, the Nigerian people. We have to educate and train our teeming young population if we seriously hope to develop this country," Atiku said.
The founder of American University of Nigeria (AUN), Yola while underscoring the importance of education said experience has shown that education and training will open doors of opportunity to students and help in rebuilding the country.
"Education opened doors of opportunity for me and gave me what I have today. Only education can guarantee the future of our young people," he said.
He informed the gathering that as founder of the AUN he and the team put together to birth the university recognised the imperative of E-learning and digital learning and that the Yola based development university id better for it boasting arguably one of the best digital library in the world.
He commended the Osun State government for recognizing the need for this important investment in a major component of e-learning.
"The education of our children and the overall development of our human capital is something that we call can all agree on, irrespective of our political parties or platforms.  We may disagree on the details or the how and where. But very few people would ask why we should give our children good quality education," he said.