Mid-Term Report: Nwosu Scores Jonathan High On Power Sector, Aviation, Others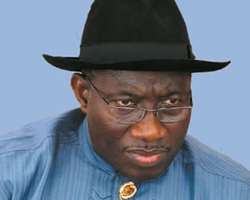 A chieftain of the Peoples Democratic Party in Abia state, Barr. Friday Nwosu has scored President Goodluck Jonathan high on his achievements in office; particularly on the Aviation and power sectors.
Nwosu said within the years the Jonathan has been in office, several sectors of Nigeria's economy have taken shape.
'President Jonathan means well for Nigeria. If you check his achievements within the two years period he has been in office; there have been improvement in the power sector, rule of law, Aviation, electoral reforms, transportation, judicial reforms, oil industry, roads, among others.
Jonathan is truly implementing a transformation agenda,' he posited.
The legal practitioner posited that the policies and type of projects embarked upon by Jonathan confirms that he has the interest of Nigerian at heart.
'There are remarkable differences in the ways things were done in the past. Take your mind to the state of emergency proclamations in the past where all democratic structures where usually sacked by previous governments, It took a man like Jonathan to effect the required changes.
Above all, Jonathan has been very tolerant of the opposition and sees them as partners to build a greater nation. This was lacking in previous administrations. I think this is the difference between him and his predecessors,' he said.
Nwosu further stated that Jonathan deserves commendation for the giant strides he has recorded in the past two years.
'President Jonathan has done very well in the past two years. He is more democratic than his predecessors. He delivered a truly independent electoral body to the nation. There are visible developmental projects.
You can see the hand book on midterm report of transformation agenda. He introduced U win programme, Sure P, 35% affirmative action for women, amongst others. Jonathan has done well, I score him 80%. Nigerians have enjoyed all their fundamental human rights and freedom under Jonathan. He deserves a second term to consolidate gains,' he said.
On criticisms of Jonathan's administration, Nwosu who is believed to harbour ambition for the Abia Government House in 2015 condemned the type of politics being played by some opposition parties in the country and called on them to stop what he described as destructive politics which will not augur well for the nation.
'The type of politics being played by some opposition parties in the country today is regrettable. They criticize even when it is not necessary. What do you make of the ACN or APC which sees nothing good in Jonathan's government? For me, I don't see them as alternative to the PDP because we know the antecedents of their leaders. Nigerians cannot be deceived. Why can't they commend the President when deserves it or criticize constructively? It means they have sinister motives. The main duty of the opposition parties in any country is to act as a check on the ruling party but the ones in Nigeria have rather engaged in politics of destruction. They should a new leaf and support the president to advance democracy in Nigeria. '