Impeach Fashola Now, PDP Urges Assembly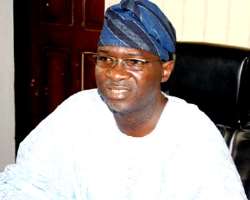 The Peoples Democratic Party, PDP, lagos State has urged  the Lagos State House of Assembly (LAHA) to jettison the request of Governor Babatunde Fashola to toll the new Lekki-Ikoyi link bridge and indeed commence impeachment proceedings against  the Governor  over his insistence to commence further Tolling Of Lagos roads.
The Governor had on Democracy day announced plans to commence another tolling on Lagos roads especially the new 1Km Lekki-ikoyi link bridge.
In a statement signed by its Publicity Secretary, Taofik Gani, the PDP stated that it was immoral to allow the governor collect toll on a road wholly built with Lagos Taxpayers monies.
"Even the ongoing tolling of the Lekki-Epe Road that the Lagos Lawmakers acquiesced to is morally wrong as they know well that a project ought to be completed and delivered before it can be paid for. In this instance, the tolling has started whereas the actual design and benefits from the said road have not even been completed which is exploitation" the party stated.
According to the party,  this is the real time for the State Lawmakers to stand up for what is right by removing the governor.
"The Lagos Lawmakers  must find their ways back into the hearts of lagosians and Particularly to prove to lagosians that they are not stooges and  puppets of the Governor" the party stated.
The PDP pointed out that the only way members of the Lagos State House of Assembly could prove that they do not backup the very many unpopular policies of Governor Fashola was to stand up now against the planned tolling of the Lekki-Ikoyi bridge. As a matter of fact, they must also commence the probe of the alleged 29Billion spent to construct the said bridge".
The party stated that the conception that lagos was in bondage of a business syndicate ably aided and Abetted by  Governor Fashola could  be put straight at this time If the Lagos Lawmakers remained resolute and rejected  the tolling of the 1Km Lekki-Ikoyi link bridge. They must also at this point curtail the arrogant posture of governor Fashola in the Governance of Lagos State"
"There is serious need for the Lagos House of Assembly to do a holistic review of all the anti-people policies by Fashola and find ways to reverse them.
"Fashola's imperialist system has pauperised so many people in Lagos and the time to stop it is now.
"The present desperation to commence the tolling of the Lekki-Ikoyi linkbridge is indeed immoral, exploitative and further gives Credence to the suspicion that even the purported repairs of some Federal Government roads in the state are indeed inflated to make extra profits into some private pockets.
" The Lawmakers must resist this attitude of the State Governor by impeaching him" the party added.