Supreme Court Dismisses Former Ekiti Governor's Appeal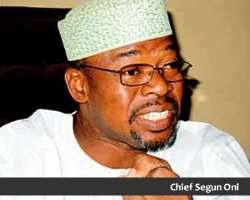 The Supreme Court Friday finally settled the electoral feud between a former governor of Ekiti State, Olusegun Oni and the incumbent, Kayode Fayemi by affirming Mr. Fayemi as the rightful winner of the 2007 governorship election in the state.
A five-man panel of the court led by Justice Sylvester Ngwuta stated in their decision that Mr. Oni's appeal who sought to exploit the judicial crisis at the Court of Appeal, lacked merit and thus dismissed his appeal. Mr. Oni had complained to the court that new evidence available to him showed that he was denied a fair hearing according to section 36 of the Nigerian constitution because the court of Appeal that threw him out of office was biased. He then prayed the court to revisit the judgement.
However, the Supreme Court judges unanimously decided that Mr. Oni's appeal was an attempt to sneak back into the Ekiti State government house    through the back door as he knew that the Court of Appeal was the court of last resort with  jurisdiction to try the matter conclusively.
The court dismissed Oni's appeal but awarded no costs.