SENATOR NWAGU BACKS EKWE AWARDS 2013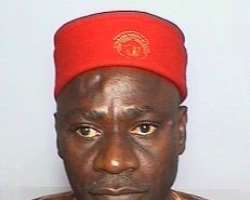 Arrangements for the hosting of the much awaited All Igbo Music Awards, otherwise known as EKWE AWARDS, received a boost last week when Senator Igwe Nwagu (Ebonyi Central) undertook to underwrite the costs of two plaques-namely, for the best act respectively in the Egwu Ekpili and Nkwanwite categories of the show. By this welcome development, the name of Senator Nwagu will be engraved on the awards insignia of the two genres of Igbo music.
At the occasion which took place in his country home in Abakiliki, Ebonyi State, Senator Nwagu commended the organisers for their "visionary efforts to salvage the fast deteriorating state of Igbo music culture and language." Describing musicians as 'special creatures", he promised to give every necessary support to the Ugo Stevenson-led Ekwe Awards Organising Committee for the success of the event.
"Ekwe Awards" says Mr. Ugo Stevenson, derives its name from the wooden percussive instrument used in all Igbo music styles." According to him, "The honours ceremony is intended to celebrate those who have preserved Igbo language and culture through music."
Stevenson, a noted highlife musician, is the 2007 AMEN best highlife artiste, and 2008 NMA best highlife artiste. The Ekwe Awards is unique also in capturing for recognition and encouragement, the brand of music that is peculiar to each Igbo speaking state. "Anambra State is home of Ekpili music while Enugu boasts of the Ogene sound. Bongo and Abigbo are peculiar to Imo, Odumodu is of Abia. Ebonyi has Nkwawite. Our Ikwerre brothers in Rivers State have Uri Obo and the Igbos of Delta are masters of Oyorima." These unique music styles, says Ugo Stevenson, find strong expression in Highlife, which he describes as "Igbo contemporary music." Enthusing strongly about the endorsement by Senator Nwagu, Ugo Stevenson called on other well-meaning Ndigbo to rally to the cause as demonstrated by Senator Nwagu.
"You cannot regret it, but have every reason to beat your chests," he urged. These music styles are currently performed by more than two thousand practitioners around the globe, with high record of success," Ugo Stevenson further maintained.