Afghanistan's Karzai Denounces Taliban For Killing Countrymen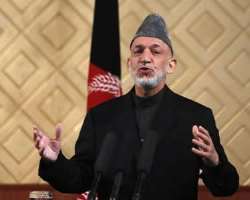 AFGHAN PRESIDENT HAMID KARZAI
Afghanistan's Taliban are killing Afghans and making a mockery of their claim to be fighting foreign invaders, President Hamid Karzai said on Thursday.
A series of attacks in different parts of the country, including areas long considered largely free of militant violence, is raising worry about the ability of Afghan forces to maintain security after most foreign troops leave.
"It's clear that the fight is not against foreigners, it's for foreigners," Karzai told a news conference at the presidential palace in the capital, Kabul.
Karzai did not elaborate on that point though he has long accused neighbouring Pakistan of harbouring Afghan Taliban leaders and backing their insurgency in a bid to promote Pakistan's security interests.
Pakistan rejects the accusations.
Karzai, addressing the Taliban, said they were killing an increasing number of members of the Afghan National Security Forces (ANSF), who were now defending the country.
"Why do you martyr a soldier who protects this country? You plant a roadside bomb in his way and blow him up," Karzai said.
"In this defence we sacrifice every day. Twenty people, 30 people, 15 people from the ANSF, and these sacrifices are more than the past two or three year," he said.
Most foreign combat troops will leave by the end of 2014 but Afghanistan and the United States are in talks about a small U.S. force staying on. They have yet to agree on how many will remain and where they will be based.
Karzai appealed for people to be patient, saying there was no need to rush the negotiations.
"We want to guarantee Afghanistan's interests including peace, security, accountability and friendship," he said.
The Taliban have stepped up attacks in recent weeks after a traditional winter lull.
On Wednesday, militants attacked the provincial governor's compound in the Panjshir Valley, one of the country's most peaceful provinces and a bastion of anti-Taliban forces, where Taliban violence is virtually unheard of.
Later in the day, militants assaulted an office of the International Committee of the Red Cross in the eastern city of Jalalabad, the first such attack on the agency since it came to Afghanistan in 1987. A guard was killed and police rescued seven foreign staff from the compound.
Taliban spokesmen declined to comment on the attack.
Also on Thursday, Afghanistan's main intelligence agency said it had captured five suicide bombers and killed one in a raid with police in Kabul on Monday.
The bombers were connected to the Haqqani network and Pakistan's Inter-Services Intelligence agency, said the Afghan agency's spokesman, Shafiqullah Tahiri.
Pakistan routinely rejects such accusations. The Taliban-allied Haqqani network is known to operate at least partly out of Pakistan's lawless North Waziristan region on the border.
REUTERS