Customs Officer Arrested Over Cross-Border Ammunition Supplies To Boko Haram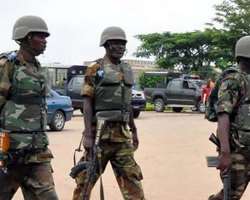 SAN FRANCISCO, May 28, (THEWILL) – A senior Customs Officer in the Borno State Command has been arrested in Maiduguri, the Borno State capital, for allegedly aiding cross-border arms and ammunition supplies to the Boko Haram sect.
The officer, whose name is being kept secret, is believed to have allegedly used his position in the operations department of the Nigeria Customs Service to assist Boko Haram in bringing in ammunitions through the country's borders with Cameroon and Niger.
An impeccable source in Maiduguri said the Customs Officer was arrested following the arrest of some of the sect's members by security forces.
"He was arrested by the military following the arrest of some militant sect members, who after series of interrogation revealed the officer as the one of the many security officers helping them to bring in weapons to the state," the source said.
The Customs Officer, who is alleged to have bought choice cars and many landed properties across the state from the proceeds of his business deals with the insurgents, was alleged to have manned the border post each time the truck conveying arms was about coming to Maiduguri.
"He would simply tell his boys to let the truck pass that it has been cleared from above," the source added.