Nyako Heads To Court Over Use Of State Funds For Emergency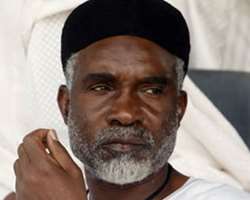 ADAMAWA STATE GOVERNOR, ADMIRAL MURTALA NYAKO
SAN FRANCISCO, May 28, (THEWILL) – The Adamawa State Governor, Admiral Murtala Nyako, is heading to court to stop the Federal Government from tampering with the statutory allocation of the state and local governments following the declaration of emergency rule in the state.
Recall that the National Assembly had given the President powers to administer the state and local government statutory allocations in line with Section 3(d) and (e) of the State of Emergency Proclamation Act, 2013, which was passed by the National Assembly last week.
The Governor said it was unconstitutional for the President to hold and administer funds meant for the state as well as two others currently under emergency rule.
In a statement by Mallam Ahmad Sajo, the Director of Press and Public Affairs, to Nyako, the Governor said the affected states would seek judicial redress on the matter.
"Definitely the affected governors of other states and Adamawa will go to the Supreme Court should the president make the move" insisting that the President has no powers to render a state cashless.
President Jonathan declared emergency rule in Adamawa, Borno and Yobe states to enable the military move in effectively deal with the Boko Haram insurgency.