NGF: Governor Ahmed Calls for Reconciliation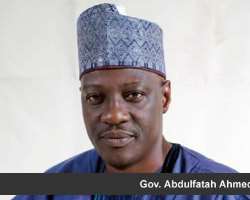 Kwara State Governor, Dr Abdulfatah Ahmed has called for reconciliation in the aftermath of the recently concluded Nigerian Governor's Forum (NGF) election in order not to lose sight of the peer review for development which motivated the forum's emergence in the first place.
Speaking to airport correspondents last weekend on his return from Abuja where the elections were held, Governor Ahmed called on his colleague governors to shun divisive political tendencies and bury the hatchet while focussing on using the NGF as a platform for driving impactive development for the benefit of the people.
'If there are issues as regards the election of the Forum's chairman, we should use the same platform to resolve them rather than fanning the embers of discord in the media. Our choking security challenges should not be compounded with political conundrum," the governor emphasised.
Governor Ahmed therefore called on the leadership of South-South Governor's Forum, the Northern State Governors' Forum, the South East Governors' Forum and their colleagues from the South West to utilise their various platforms to strengthen the Forum and complement the leadership at the federal level.
According to him, as a peer-review platform for good governance, the NGF should offer critical development advice to first term governor's such as himself so that democracy can be made more meaningful for the people, stressing that deliberate efforts should be made to ensure that the system is not overheated.
Abdulwahab Oba
Chief Press Secretary to the Kwara State Governor