Army Chief Says Nigerian Soldiers Aiding Boko Haram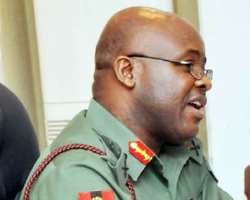 CHIEF OF ARMY STAFF (COAS), LT.-GEN. AZUBUIKE IHEJIRIKA
SAN FRANCISCO, May 22, (THEWILL) – Nigeria's Chief of Army Staff (COAS), Lt.-Gen. Azubuike Ihejirika, on Wednesday, said some rogue soldiers have been helping the terrorist group Boko Haram with intelligence and conspiring with them to frustrate military operation against terrorists in Northern Nigeria.

The Army chief who spoke at the opening ceremony of the Nigerian Army transformation and Innovation Centre on Personnel Management and Development at the Command Officers Mess, Asokoro, Abuja, said a rogue soldier gave Boko Haram information on the movement of Mali bound soldiers which led to an IED attack on the military luxury bus conveying the soldiers around Okene where two soldiers were killed.

"As you are aware, a soldier gave out information on the movement of our troops to Mali…

"The troops were attacked somewhere close to Okene. The guy has been apprehended and is going to be court-martialed," he said.

While sounding a warning to disloyal soldiers, Ihejirika also confirmed the arrest of some soldiers who have been communicating with terrorists via the internet.

"Again let me also use this opportunity to warn officers and soldiers who indulge in giving out information both from the Army headquarters and other formations; certain vital information that has in one way or the other worked negatively in our operations.

"There are some soldiers that have been found to be posting negative comments on the Internet and some conversing with insurgents.

"I want to state that any officer or soldier caught linked one way or the other will be disciplined severely, there are no two ways about it.

"So the Directorate of Military Intelligence is encouraged to continue to monitor the activities along with military police and other commanders in the field," the Army Chief added.

The military is actively engaging the Boko Haram in three Nigerian states -- Adamawa, Borno and Yobe -- where President Goodluck Jonathan declared a state of emergency last week.