Buhari Asks Jonathan To Resign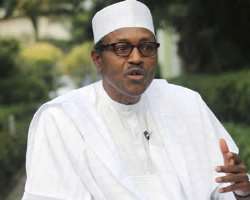 General Muhammad Buhari has asked President Goodluck Jonathan to resign from office for his inability to tackle the security challenges facing the country.
'Jonathan should vacate and give way to competent hand to govern the country', he said.
Speaking to newsmen in his residence in Daura town yesterday, General Buhari said the issue of security is a fundamental duty of any responsible government, but Jonathan failed to protect the lives and the properties of Nigerians since he assumed power.
'When the Niger Delta militants started their activities in the South-South, they were invited by the late President Umaru Yar'adua.
An aircraft was sent to them and their leaders met with the late President in Aso Rock and discussed issues. They were given money and a training scheme was introduced for their members. But when the Boko Haram emerged in the north members of the sect were killed,' General Buhari lamented.
'And when the police failed to address the insurgency, soldiers were invited and they captured the Boko Haram leader, Muhammad Yusuf alive and handed him over to police. But Yusuf was eventually killed, his in-law too was killed and their houses were demolished', he said.
He said the murder of the Boko Haram leader however provoked his followers and that was what led the country to its present situation. He suggested that government should adopt a new approach that will end the insurgency without affecting the lives and properties of innocent people.
'In Bama and Baga towns, military personnel were reported to have been engaged in extortion and sometimes Molesting of women. And because a soldier was killed in Baga the whole town was sacked by military. This is not the best way military should have acted when they were sent to restore law and order in a town. How can a responsible government allow its people to be killed in this way,' he asked.
He warned that the police, SSS, army, navy and Air force should know how to conduct themselves and act professionally.
'The soldiers are not expected to go and sack a town because one of them is killed. They are expected to capture the culprits for prosecution. After all the soldiers are not meant to tackle internal crisis but when it is necessary they should act professionally.
'Whoever is sent to protect people should also protect their integrity. When the former England's Prime Minister, Margret Thatcher decided to hold its political meeting in Brighton the security advised her to cancel the meeting because of the IRN rebellions, but she insisted and held the meeting. The hotel she was accommodated was bombed and some of her political associates were killed but soldiers did not condone the area and kill everybody there, rather they conducted themselves professionally,' Buhari said.
General Buhari, who condemned the imposition of state of emergency in Borno, Yobe and Adamawa states, said state of emergency was not the best way to address insurgency in the three affected states and the country in general.
'Government cannot kill all the Boko Haram members. Government should rather arrest and prosecute the Boko Haram members. They should only be killed when they said clearly they wage war against their country like what happened during the civil war. And even during civil war we that fought in the war were given a copy of code of conduct book which guided us against killing innocent people', he said