Tax Fraud: House Threatens To Arrest Nine Bank Chief Executives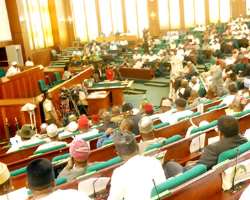 ABUJA, May 20, (THEWILL) – The House of Representatives on Monday threatened to issue a bench warrant on nine bank chief executives if they fail to appear before its Committee on Finance on Wednesday to answer questions relating to fraud in the remittance of tax proceeds to the Federal Government.

Chairman of the Committee, Hon. Jubril Abdulmumin, who issued the threat at the opening of the "Investigation of Tax Remittance by Banks' in Abuja, said the chief executive officers (CEOs) of the banks must appear in person, or explain in writing why they would be represented.

The banks involved are Zenith Bank Plc, Sterling Bank Plc, StanbicIBTC Bank Plc, Skye Bank Plc and Keystone Bank Limited. Others are Heritage Bank, Eco Bank Nigeria Plc, Citi Bank Nigeria Limited and Enterprise Bank Limited.

The committee had last week summoned chief executives of 23 banks made up of Access Bank, Citi Bank Nigeria Limited, Diamond Bank Plc, Eco Bank Nigeria Plc, Enterprise Bank Limited, Fidelity Bank Plc, First Bank of Nigeria Plc, First City Monument Bank Plc, GTBank Plc and Heritage Bank.

Others were Keystone Bank Limited, Mainstream Bank Limited, Skye Bank Plc, StanbicIBTC Bank Plc, Standard Chartered Bank Nigeria Limited, Sterling Bank Plc, Union Bank of Nigeria Plc, United Bank for Africa Plc, Unity Bank Plc, Wema Bank Plc and Zenith Bank Plc.

While 14 of the affected banks honoured the invitation, the other nine stayed away without permission or apology necessitating the threat from the committee.

In issuing the threat, Abdulmumin said "For us in the committee, the law is more important. The banks that have shown good faith will be given an exception. The chief executive officers of the banks who didn't come here today must appear in persons here on Wednesday by 2 p.m or explain in writing why they would be represented. They must appear before this committee on Wednesday or I will issue them a warrant of arrest ," Jibrin threatened.

According to him, "Our concern as a committee is your contributions to the revenue base of the country. What we seek to do is ask you to give more, or at worst give exactly what you are expected to give in accordance with the laws of our land as at when due."