PRESS BRIEFINGOF THE AU COMMISSION LEADERSHIP AND HOST COUNTRY REPRESENTATIVE ON THE 21ST AU SUMMIT AND THE CELEBRATIONS OF THE GOLDEN JUBILEE OF THE OAU-AU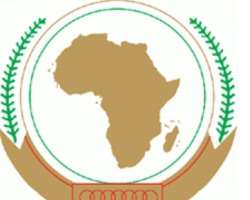 PRESS BRIEFINGOF THE AU COMMISSION LEADERSHIP AND HOST COUNTRY REPRESENTATIVE ON THE 21ST AU SUMMIT AND THE CELEBRATIONS OF THE GOLDEN JUBILEE OF THE OAU-AU
ADDIS ABABA, Ethiopia, May 20, 2013/African Press Organization (APO)/ -- Within the framework of the 21stAU summit, falling within the celebrations of the Golden Jubilee of the OAU-AU, the leadership of the African Union (AU) Commission and the representative of the host country will on 19 May 2013 at 15h00 hold a press briefing on the celebrations of the theme of the Summit and the 50th anniversary of the OAU-AU.

The panel will be constituted of Dr Nkosazana Dlamini Zuma, Chairperson of the African Union (AU) Commission, Mr Erastus Mwencha, Deputy Chairperson, Ambassador Konjit SineGiorgis, representing the Host Country and Ambassador Jean Mfasoni, Secretary General of the AU Commission.

The briefing will be held at the new AU Conference Center in the Small Conference Hall 2, in Addis Ababa, Ethiopia.
Journalists are invited to take part in the press briefing.