Jonathan's Ag. Presidency is unconstitutional -NBA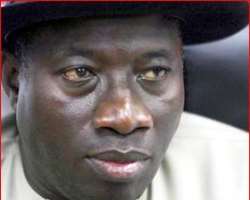 Yola Saturday, February. 20, 2010 -THE Nigerian Bar Association (NBA) has
declared that the National Assembly was technically wrong for invoking the 'doctrine
of necessity' to empower Dr. Goodluck Jonathan as Acting President.
In a communiqué issued at the end of its two day National Executive Council
meeting, NBA said the National Assembly's resolution would only temporarily
resolve the leadership crisis that the long absence of ailing President Yar'Adua
creates in the polity.
The NEC which commended its President Oluwarotimi Akeredolu (SAN) for standing
by the constitution and the people of Nigeria, said it will refrain from making further
comment on the issue because the matter is pending in court.
The country's democracy was threatened following refusal of President Yar'Adua's
kitchen cabinet to prevail on him to write a letter empowering the Vice President
pending his return from Jeddah, Saudi Arabia, where he is receiving medical
treatment.
The National Assembly, however invoking the "doctrine of necessity" passed
separate resolutions mandating Dr. Jonathan to become Acting President, a
decision that has generated mixed reactions from legal experts, groups, as well as
politicians.
Some Nigerians have gone to court praying that the court should declare the
resolution on Jonathan illegal and unconstitutional.