You Can't Cook--Angry Fans Tell Ini Edo After Posting Kitchen Pictures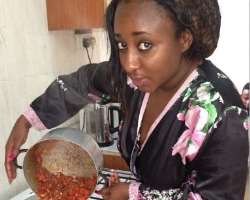 Maybe if Ini Edo had known that posting a picture of her in the kitchen cooking what looks like spaghetti would bring her insults, she would not have released the photograph online.
Probably by her calculations, she thought the picture would go viral just like that of Keri Hilson's 'fufu' delicacy picture in the kitchen.
But rather than getting commendations, angry fans used the opportunity to vent their angers on the sultry actress.
"Mtchewwww! So disgusting! What kind of yama-yama food is dis? So this is what u eat everyday & u re proud to show it off. See how messy d environment is jst bcos of common spag," an angry fan on NFC posted.
Another wrote, "Ini dearest brown sugar, that looks like dog food o, abi you cooked it for 'ginny' to come chop? Anyways, if that dog food is for 'ginny', you need to add ketchup!"
"Goshhh, see dirt everywhere! Just 4 ordinary spaghetti," a fan also wrote. "heiii, ini dis one na otorogbagbue nne efi, my 9months old baby go reject dis one now," wrote another fan.
Some others went on to vent their angers on the beautiful actress. Some of their comments are presented below;
"what type of food is this? u know how to dress well and look good but u don't know how to cook good food and clean ur kitchen well while cooking,"
"I want to vomit oooooo. Ini pls as much as i am your fan, i have to tell you the truth. You just cook r*****h."
"I can't stop laffing too oooo. What is this biko? Oh no! Pls take dis s**t down, it looks so unappealing."
"Ini, which kin portorportor food b dis kwa?, very irritating. So, na dis tin u dae cook n chop 4 house or na junk jus make u blow like dis? Like sae na me, I for no upload dis kin tin oh, u 4 upload d one wae u sabi na."
"You really disappoint me. How can you show the world that you cook this food. The kitchen is very dirty. You only dress outside but inside is na**y. No joking, please go and learn how to cook in a way people will feel like eating."