INSECURITY AND INCONSISTENT POWER SUPPLY: TWO DISTINCT CHALLENGES DRAINING THE GAINS OF OUR ECONOMY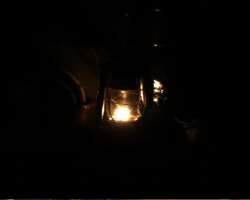 Two distinct challenges are insidiously eating away at whatever gains Nigeria has made in the economic arena as well its socio-cultural stage since pursuing a pro-democratic agenda. What are they? Insecurity and Inconsistent power supply.
Lawlessness is a plague that steals the light of a nation. A lawless State is rife with insecurity and its citizens are slaves to such order. Nigeria is witnessing an alarming trend in lawlessness and insecurity. There is hardly any breaking news in the mainstream media without an account of some form of security challenges, acts of violence, ethno-centered strife or religious fueled clashes. It is either Boko Haram in the Northern corridor or Kidnapping in the South-South and South East geopolitical zone.
These spates of uncanny acts have ceased the nation in a state of perpetual flight or fright. Law abiding citizens are terrified of moving about as freely as they enjoyed in the past. Business and general commerce are negatively impacted. One instance is the flow of agricultural produce across the breath and length of North and South. Consumers and traders of key agricultural produce, which are usually hauled to the South from the North, have complained of shortage of tomatoes, pepper, onions and yams and the likes. Prices are therefore steep by market equation, making it less affordable to average consumers. These are micro-economic infringements, which are indices of macro-economic health of the nation.
Boko Haram and their unchecked bloody assaults have independently caused a grave loss of revenues to the tune of billions of naira both for the private and public enterprise. The accompanying human casualties from Boko Haram's onslaught have decimated household's abilities to earn income. Families of victims, husbands and breadwinners are displaced from their homes and businesses, leaving them in a handicap state with no one strong enough to fend for their weaker, innocent members.
The toll on potential foreign investment opportunities is another challenge brought about by insecurity. Foreign multi-nationals are beginning to dial down on their enthusiasm to venture into our State. This is, despite the known fact that leading evaluators of "developing economies" point to Nigeria as a proven haven for market profitability. The pervasive kidnapping of mafia-like phenomenon sweeping across the South-South and South East incenses this pathetic development. Anyone, and particularly those who show signs of wealth are free game for the kidnappers. Foreign nationals are prime victims. There is report that even politicians and feuding leaders employ the services of kidnappers to further their mundane agendas.
Justice Brandeis, in Olmstead v. US, 277.U.S. 438,485 (1928) stated; "Nothing can destroy a government more quickly than its failure to observe its own laws, or worse, its disregard of the charter of its own existence".
Also, Clark Tom C, in Mapp v. Ohio, 367 U.S. 643,659 (1961) affirmed; "Our Government is the potent, the omnipresent teacher…for good or for ill, it teaches the whole people by its example. If the government becomes a lawbreaker, it breeds contempt for law; it invites every man to become a law unto himself; it invites anarchy." Such is the truest summation of Nigeria's fragile enterprise.
Inconsistent power supply, or the lack thereof, is quantifiably an economic plague with a predictable end. It is quantifiable and can have a predictable end because it involves interplay of available technical resources and human cognition. In the case of Nigeria, it is not so. Power supply and its efficiency continues to elude us decade after decade, government after government. There are no lack of policies or proposals in the grasp of our lawmakers and technocrats suited to address this challenge. In fact, the country has more than enough, yet the application of any of the formula is lock jammed by greed and personal agendas.
Consistent and available power supply drives the economy of any nation. The engine of the famed British Industrial Revolution of 1780-1850 was largely due to efficient harnessing of power supply in its timid state, like water reservoirs, hydrocarbon fuels, oil and natural gas supply. When Nigeria admixes the bountiful available monetary allocations and resources to a conscientious agenda to provide power to all her citizens, then the plague will cease and there will be light. Pure and Simple. When Nigeria can extricate politics and personal greed from the issues of power supply; then new and old industries will thrive, newer infrastructures and economies will take root. Joblessness, unproductivity, and even crime will reduce considerably.
To move Nigeria forward economically and socially, the federal government needs to reevaluate their approach to the fundamental challenges of insecurity and power supply. Power supply is a necessary engine for a vibrant economy and security creates a favorable market environment for investors, for healthy flow of commerce and for tourism.

Written By Dr. Edwin Ndukwe
Austin, Texas


Disclaimer:

"The views/contents expressed in this article are the sole responsibility of the author(s) and do not necessarily reflect those of The Nigerian Voice. The Nigerian Voice will not be responsible or liable for any inaccurate or incorrect statements contained in this article."
Articles by thewillnigeria.com