Wall Street Rally Just Keeps Ticking, Lifted By Data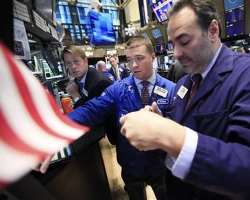 U.S. stocks advanced on Friday, with the S&P 500 erasing declines in the previous session, putting the index on track for its fourth straight weekly advance as data helped support recent momentum.
The benchmark S&P 500 index fell 0.5 percent on Thursday, its biggest drop since May 1, after a Federal Reserve official said the U.S. central bank could begin reducing its monetary stimulus program this summer.
The central bank's program of $85 billion a month in bonds has been a major driver of the rally in equities that has propelled both the Dow .DJI and the S&P 500 to record highs and sent both indexes up about 16 percent for the year.
"We'll see how the Fed communicates when they start to take their foot off the accelerator. The market could react to that when it finally comes, and at some point, they are going to have to do it - and they are going to have to announce it," said Cameron Hinds, regional chief investment officer of Wells Fargo Private Bank in Lincoln, Nebraska.
The Thomson Reuters/University of Michigan's preliminary reading on the overall index on consumer sentiment rose to 83.7, its highest level in nearly six years as Americans felt better about their financial and economic prospects, up from 76.4 in April and above economists' expectations for a preliminary May reading of 78.
"We have the confidence number come out, but I would almost say the market itself is a better indication of confidence at this point because it's certainly been positive," Hinds said.
In addition, the Conference Board, a private industry group, said on Friday that its Leading Economic Index increased 0.6 percent in April to 95.0 - the highest level since June 2008 and above the forecast for a gain of 0.2 percent.
The stimulus measures taken by central banks around the globe have enabled investors to shrug off more recent economic data indicating only sluggish improvement in the U.S. economy.
The Dow Jones industrial average .DJI gained 64.25 points, or 0.42 percent, to 15,297.47. The Standard & Poor's 500 Index .SPX rose 9.16 points, or 0.55 percent, to 1,659.63. The Nasdaq Composite Index .IXIC advanced 19.75 points, or 0.57 percent, to 3,484.99.
Earlier in the session, the Dow hit another all-time intraday high at 15,305.44.
J.C. Penney Co Inc (JPM.N) shares lost 3.1 percent to $18.21 after the retailer reported another steep quarterly loss on weak sales and heavy clearance deals, and Chief Executive Myron Ullman cautioned he needs time to fix the company's problems.
General Motors Co (GM.N) shot up 3 percent to $33.36 after CLSA raised its rating on the automaker to "buy" from "underperform.
S&P Dow Jones Indices said after the close on Thursday that S&P MidCap 400 .MID component Kansas City Southern (KSU.N) will replace Dean Foods Co (DF.N) in the S&P 500. Kansas City Southern shares gained 1.5 percent to $117.93 while Dean Foods rose 0.7 percent to $20.74.
Aruba Networks Inc (ARUN.O) plunged 27.2 percent to $12.82 after the network equipment maker released fourth-quarter results well below Wall Street's expectations, hurt by rising competition from Cisco Systems Inc (CSCO.O).
REUTERS