Flooding: FG Must Be More Proactive - Mark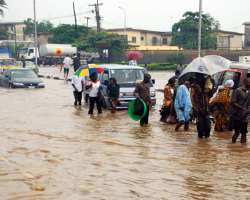 ABUJA, May 16, (THEWILL) – President of the Senate, David Mark, has challenged the government to be more proactive and prepare for flood so that the number of deaths will be reduced.
His declaration came against the backdrop of the prediction by the Nigeria Meteorological Agency (NIMET) that the country will witness 100 percent increase in rain volume this year as against that of 2012,
The resolution was sequel to a motion sponsored by Senator Ita Enang (Akwa Ibom, PDP) and 39 others, titled Emergency Preparedness for 2013 Flood and Rainfall Prediction: Urgent Need for Dredging and Desilting of the River Niger, The Cross River,River Benue and other inland Water Ways in Nigeria.
According to the motion, unless concerted efforts are made by the Federal and State Governments and relevant Ministries, Department and Agencies (MDAs) statutorily charged with the responsibility of planning for and mitigating the effect of natural disasters such as clearing of obstruction along water routes such as bridges, the channels through which excess water can flow through the Benue and Niger River to the confluence in Lokoja for subsequent emptying to the ocean will continue to be obstructed.
The Senate however directed its committee on Water Resources, Environment, Marine Transport and Special Duties to check the level of preparedness by the Federal Government and the National Emergency Management Agency, NEMA, in checking the seasonal flooding and report back to the Senate in two weeks.
According to Senator Mark, there is hardly any state in Nigeria that was not affected one way or the other in last year's flooding and there is ample evidence that the flooding this year will be worse.
"Our level of preparedness in this country is never good enough; we always take the fire brigade approach to everything which shows our inability to prepare for emergencies. Government should be proactive and take adequate measures so that when the flooding comes, we will be adequately prepared.
"It will be overwhelming if the prediction comes to pass,NEMA was over stretched last year and if we get warned and don't do anything about it, then something is really wrong. We need to pray and at the same time back it up with action," Mark said.