N25 Bn Fraud: Goje's Alleged Accomplice Denies Own Statement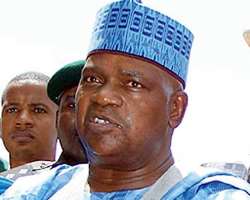 FORMER GOVERNOR OF GOMBE STATE, MUHAMMAD DANJUMA GOJE
SAN FRANCISCO, May 16, (THEWILL) – The Economic and Financial Crimes Commission, EFCC has urged Justice B.O. Quadri of the Federal High Court, Gombe, to discountenance the opposition of Sambo Muhammad Tumu to the admissibility of his statement which he claimed was obtained involuntarily.
Tumu, a food supplier to Gombe State Government House alongside the erstwhile governor of Gombe State, Muhammad Danjuma Goje and four others are facing a N25 billion conspiracy and money laundering charge brought against them by EFCC.
At the resumed hearing of the case on Tuesday 14th and Wednesday 15th May 2013, his counsel Paul Erokoro, SAN insisted the statement of his client should not be admitted in evidence, claiming he was not the author and that the document was made under circumstances of threat and promise with the sole intention to implicate the 1st accused, Danjuma Goje, by all means.
Arguing further on the vulnerability of an illiterate person such as Sambo, to buttress his stance on the document's inadmissibility, Erokoro cited the Illiterate Protection Act, saying the evidence given by Suraj did not meet the requirement of the Act.
However, EFCC counsel Wahab Shittu in his address on point of law, noted that facts as well as circumstances surrounding the statement indicate that it was voluntarily taken. He argued that to show that the statement was not voluntary the accused must demonstrate oppression, which he had not done. "An accused person who sought for an interpreter and was obliged, who agreed that the interpreter was present throughout the interview, appended his signature to the statement and was allowed to go home after volunteering his statement, can we therefore say there was oppression?".
Shittu therefore urged the court to discountenance the submissions of defence and admit the document in evidence as it is credible, compelling, cogent, and watertight.
Earlier, while being cross examined, prosecution witnesses Solomon Okotie and Suraj Abdullahi who were the investigator and interpreter respectively denied inducing, threatening or promising Sambo Tumu anything in order to extract the statement. They asserted that the statement was made voluntarily by the accused under a normal and relaxed atmosphere in an open EFCC office.
Justice Babatunde Quadri adjourned the case to 3 and 4 July, 2013 for ruling and continuation of trial.