TRACES OF NIGERIA'S ENTERTAINMENT JOURNALISM: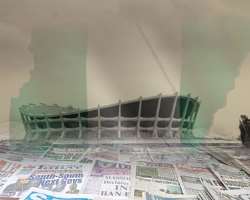 Post civil war Nigeria activated a new social lifestyle in a country ravaged by years of Civil unrest. The entertainment industry, supported by emerging new media began to experience circles of life. And the bands played on! The theaters breathed. Those entertainers disturbed by the war refreshed and returned to the scene and to mainstream media: programs such as as Baba Sala Drama show on the old WNBC in Ibadan, the Ogunde Theatre, Hotel De Jordan from NTA Benin, The Village Head Master, NTA Lagos and NTA Enugus Masquerade, were hit comedies and docu dramas that helped a charred nation began healing process from the carnages of war. There was also the Barbeach Show, anchored by Late Art Alade from NTA lagos. It was our own American Bandstand.
The show exposed our rich music culture to viewers. In Benin The Music Panorama program helped launch some of the great talents that emerged in the mid seventies era.
As the war raged, musicians played on from their stationed provinces; Late Rex Lawson, Late Chief Osita Osadebe, POGO Ltd, Chief Iyang Henshaw, Ayinla Omowura, Haruna Ishola, O.J Ekemode,The Lijadu Susters, Segun Bucknor, Joni Haastrup, Dan Maraya Jos, Late Bala Milla, Túndé Knightingale, Duro Jaiye, Orlando Owoh, Sir Victor Uwaifo, I.K Dairo, Ebenezer Obey, Sunny Ade, Fatai Rolling Dollar,Roy Chicago, Victor Olaiya, Bobby Benson, Paulson Kalu, Martin Iwegbu, Eddy Okonta, Ikenga Superstars, BLO,Nelly Uchendu were the musicians that could not be silenced by the sounds and fury of the civil war. A young sassy "outlaw"had returned to the country from the United States at the end of the war. His music would soon become the weapon of the future. Fela (Anikulapo Kuti), in 1972 was still Ransome Kuti. Later years, he would, through his call and response music, empower a people disenfranchised by corrupt leadership. We will discuss this human another day!.
The music scene, part of entertainment industry was feeling the groove of young funkadelics freed from the lockdowns of the war: by 1973, a group of St Gregory's High School kids stunned the nation with a psychedelic rock , monster hit debut album, TRY AND LOVE: The group, OFEGE heralded the beginning of pyschedelic rock in our mainstream pop culture. Sometimes in 1972, Eastern Nigeria was districted as the fortress of funk and neo soul music: it birthed artists whose records became monumental hits:The Apostles of Aba, Cardinald Jim Rex Lawson,The Semi Colons, The Ozziddi Band,The Funks, Essbee Family(Sweet Breeze)It also privileged us one of the best lyricists and song writers, the Late Celestine Ukwu who died in an auto wreck in 1977.
The entertainment business was busy: through the new media then, Nigerians were introduced to a new social class, society movers and shakers: celebrities of our entertainment industry. The electronic media had their own on air personalities and star presenters. WNBC Ibadan had its first popular radio disc Jockey, Alex Condi; Radio Nigeria national broadcaster, Ikenna Ndagwuba, Benson Idonije, Victor Oduah, Willie Egbe, Tony I (Ibegbunam), Yinka Craig, Wale Adetiba, Julie Coker, Sienne All Well-Brown.Bisi Olatinlo, Jones Usen. Entertainment journalism was at its trial period: reporters were randomly picked to cover entertainment events by their various News editors. There were no Entertainment Editors, desks and Entertainment Reporters until The Punch newspaper created SH: Saturday Highlife; center spread dedicated to entertainment journalism.
The period of the eighties was the best of everything entertainment in Nigeria's social lifestyle . The pop culture was experiencing a transition from the disco era to the protest reggae music that called our sufferings and smiling to universal attention.
The fashion industry was emerging with its adventure into Nigerian couture, experimenting with Adire, guinea brocade and colorful lace rags: new age designers and runway models designed wears that turned heads and made us looked sensual, stylish and sizzling. The pride was made in Nigeria by Nigerians for Nigerians. The nouveau rich under a military dictatorship that peppered us with austerity measures, green revolution, structural adjustment programs, unsteady inflation and corruption instantly became society socialites and celebrities, anchored by major electronic media stars: we had no social media, no cell phones, and no digital on demand media. Best of the intrigues of our lives? No regular salaries. Some newspaper organizations were also challenged by scarcity of newsprints. Newspaper Pagination became casualties of austere times. But we had courage, determination and the desire to uphold the ethics of entertainment journalism. We had soul!.
We were guided, guarded, encouraged and cheered on by our entertainment and Arts Editors in various media organizations: we were blessed Ben Tomoloju with The Guardian, Fola Arogundade; the Vanguard, Ladi Ayodeji of The Punch, Chinaka Fynecountry, Lagos Weekend, Chuks Anyaso, Daily Times,; Basil Okafor, Sunday Times, Moji Danisa, Climax Magazine, Prime People Magazine, May Ellen Ezekiel and Michael Awoyinfa, Concord Newspaper. With faith and fate, my generation of entertainment reporters became foot soldiers on the beat. We competed respectfully and with dignity for exclusive stories and gossips against each in the business.
The entertainment beat reporters pool was a caravan of dignity, love and pride as we competed for entertainment and society hot news in the trade: That pool included the best of our time entertainment writers and reporters; Alozie Uzouku, Kafui Gale Zoyiku, Jahman Anikulapo Kuti, Abdul Okwechime, Basil Okafor, Kolosa Kargbo, Ifeanyi Nkennor, Wale Olomu, Moji Danisa, Mayor Akinpelu, Femi Akintunde Johnson, Kunle Bakare, Toyin Akinosho, Billy Okonedo, Richard Mofe Damijo, May Ellen Ezekiel, Betty Irabor, Chuzy Onuorah Udenwa, Charles Okogene, Hakeem Ikandu, Tunji Bello, Humphery Ananaba, Uzor Maxim Uzoatu, Ifechi Okoh, Niran Malaolu, Ogbonnaya Amadi, Ikechi Ebeji, Jude Arijaje, and yours sincerely. Lagos was the center spread of Nigerias show business and entertainment.
We crawled the days and nights, hanging out with the best celebrities and entertainers in our worse socio economic meltdowns. We just wanted to report. We would assemble midweek at Jazz 38 located along Obafemi Awolowo way at Ikoyi, Lagos,especially nites when Fela Anikulapo Kuti guested. We had places to go. And faces to see. We knew how and where to ambush celebrities for exclusive stories and the mundane trivialities of their lives: Klass Nite Club, Beach Combas and Lords club both located in Maryland district, Ikeja, Ace Nite Club along Allen Avenue. Sylverbirds at Iyaba, Faze 2 Niteclub, Jibowu, Floating Buka, ducked at the Marina water front, Caban Bamboo inside The Hotel Bobby Benson, a onetime structural landmark that dotted the skylines of Ikorodu road, Mama Koko in suru-lere, Mayflower at Mushin, Phoenicia hotel, Paradiso, Pussy Cat, Dollaz Nite Club, Climax Nite club, Chez De Gracia along Obafemi Awolowo Way at Ikeja, the Afrika Shrine on Pebble Street, Stadium hotel was a place to capture the essence of highlife music as performed by Sir Victor Olaiya and featured guests or guest bands.
We followed musicians to record studios and watched them record their albums; we witnessed rehearsal sessions of musicians and theatre practitioners as they prepared for their productions. We were privileged access to everything show business. We were everywhere nosing for news, capturing entertainers and celebrities behaving badly. Major newspapers dedicated most of their Saturday editions to entertainment. These editions sold because of the juicy gossips of celebrities: Ladi Ayodeji the Entertsinment Editor of The Punch created a single gossip column on his center spread: TALKAHOLIC jabbed at the misbehavior of our then stars and celebrities. Mr. Ayodeji was subtle in his gossips but very blunt with his critic of artistes. TALKAHOLIC was an expected weekend intoxicant in show business until he resigned to pursue his music tabloid, BEATS. I was his protegee.
WHISPERS would replace TALKAHOLIC gossip column. Whispers was bohemian, abrasive, free spirited and nonconformist. WHISPERS tortured celebrities misbehaving and their strange lifestyles: it craved celebrities embarrassed moments and gossiped, straight hardcore with accuracy. Readers bought weekend newspapers to read gossip columns and catch up with the lifestyles of the rich and famous featured in our sassy and spicy columns. Entertainment business was lively with gossips of stars and celebrities. Other magazines noticed the weekend readership shift to entertainment contents and quickly adjusted.
Lagos weekend and Prime People magazine became a racy weekend magazine/tabloid loaded with gossip gists about celebrities. Some of the top sale gossips included relationships, marriage mundanes and the trivialities of indecency: Lagos weekend once bested the tabloids when it slammed on its cover the picture of Kris Okotie in a romantic locked lips with Onyeka Onwenu: these two stars were then the biggest show biz personalities. Onyeka was raven, sensual and sexy new female songstress while Kris was a new kid on the block enjoying his new fame and fortune. He was burning the music charts with his albums and free spirit attitudes. Few years later, Okotie found God and abandoned pop for pulpit.
Ms.Onwenu continued her success in creative arts and pop culture, spreading her desires for performing arts into movies. She remains the only brand created from entertainment journalism. A brand, to this day, she proudly identifies with: THE ELEGANT STALLION!
A young Zimbabwean music promoter, Steve Chigorimbo, arrived Nigeria's music business September 1987 from Harare. He recruited famous Nigerian musicians for a southern Africa tour, a tour billed as music against apartheid. The line up included: Late Sonny Okosuns, Late Christie Igbokwe and Onyeka Onwenu. I was invited to cover this event as the entertainment editor of the Punch. Steve urged me to be the MC of this major event that took the groups to Zambia and Zimbabwe. The first major performance was at the Rufaro stadium in Harare. Rufaro stadium was packed with thirsty concert goers, including Zimbabwe university students. I was hyper: didn't know how Onyeka, billed as an opening act, would represent our dear native land.
When she walked on stage, she was poised, elegant and magnificent. She approached the microphone confidently, her band slowly began to belt out rhythms from Winnie Mandela song, one of the tracks from her latest album then, DANCING IN THE SUN. As she sang,toned back muscles of her legs cushioned, her neck vein vocals solidly traced her upper body muscles:you could see blood running through them, her arms held tightly to the microphone as she sang passionately and powerfully. I must capture these moments in my review. The previous night, I had one of those groupie biracial Zimbabwean young beauties that wouldn't leave me alone. We met at the hallway of our hotel and struck a conversation. She said her name was Zolfor West and worked as a secretary at the Swiss embassy. She invited me to her office to show and tell her workers of her new West African mahogany.
The night before the Rufaro stadium concert, she said she wouldn't mind spending the night with me in my hotel room. I accepted her invitation. We had a happy ending night and during one of the escapades, she called me her STALLION!... Stallions are powerful male horses, the next evening; I was watching Onyeka Onwenu galloping all over the stage as she performed. I wanted to sex this performance up, fertilize and feminize her strength and elegance on stage, I remembered Zolfor West describing my erotic night encore performance with her as stallion night … I captured these memories thus: "an elegant stallion, galloping steadily into the groove. Onyeka has matured from a saint to a sinner, from a pretender to a real performer. Here comes our ELEGANT STALLION" Today, thanks to entertainment journalism, Ms. Onwenu is known mostly by her brand name than her baptism name!

Written By Azuka Jebose Molokwu

Disclaimer:

"The views/contents expressed in this article are the sole responsibility of the author(s) and do not necessarily reflect those of The Nigerian Voice. The Nigerian Voice will not be responsible or liable for any inaccurate or incorrect statements contained in this article."
Articles by thewillnigeria.com