In Senate, Efforts To Reshape, Or Derail, Immigration Bill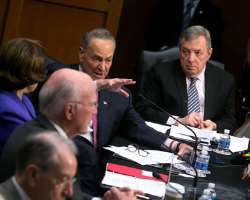 SENATOR CHARLES E. SCHUMER SPOKE ON THURSDAY AS THE SENATE JUDICIARY COMMITTEE BEGAN CONSIDERING AMENDMENTS TO AN IMMIGRATION BILL. FROM LEFT ARE SENATORS CHUCK GRASSLEY, PATRICK J. LEAHY, DIANNE FEINSTEIN, MR. SCHUMER AND RICHARD J. DURBIN.
The Senate Judiciary Committee began considering on Thursday more than 300 amendments intended to reshape — and, in some cases, even derail — legislation to overhaul the nation's immigration laws.
Four of the bill's authors — Senators Richard J. Durbin of Illinois, the No. 2 Senate Democrat, and Charles E. Schumer, Democrat of New York, along with Republican Senators Jeff Flake of Arizona and Lindsey Graham of South Carolina — sit on the committee and have previously indicated they would band together to vote against any amendments they feel would undermine the core of the bill, which offers a path to citizenship for the 11 million undocumented immigrants already in the country, as well as implements stricter border security measures.
But it remains unclear just what amendments group members would view as "poison pills," intended to thwart the bill, and what amendments they would consider as good-faith improvements to their legislation.
Mr. Schumer, in his opening statements, said, "We know there are many who want to kill this bill," but urged his colleagues to "be constructive."
"This is our chance, in this hearing room, to write an immigration bill for the 21st century, for America and its future," Mr. Durbin said.
Senator Ted Cruz, Republican of Texas, in his opening remarks acknowledged that the Democratic majority had the power to vote down Republican amendments, but implored his colleagues to consider all measures with an open mind.
"I am hopeful that the majority on this committee will work, as I trust it will, in good faith, to improve this bill and consider amendments that would make real changes," Mr. Cruz said.
Before noon on Thursday, the committee had adopted six Republican-sponsored measures, including one that requires the secretary of homeland security to report to the Senate and House Judiciary Committees on how the border security strategy is being implemented.
Senator Patrick J. Leahy, Democrat of Vermont and the committee chairman, had planned for a marathon markup, as the process of adding amendments to legislation is known. In a move intended to head off criticism from opponents that the process is too rushed and not fully transparent, Mr. Leahy decided to make all the amendments available to the public by posting them on the committee's Web site Tuesday night.
As chairman, Mr. Leahy has wide discretion to manage the politically delicate process as senators formally introduce their amendments to be voted on by the committee. While Mr. Leahy has not yet defined all the procedures, he said senators should expect a series of intense all-day sessions, and that he hoped to finish work before the Congressional recess at the end of the month.
On Thursday, the committee planned to work its way through the entirety of Title I of the bill, which focuses on border security.
Senator Charles E. Grassley, Republican of Iowa, said he worried that the current bill is "legalization first and enforcement later."
"We need to work together to secure the border first," said Mr. Grassley, the ranking Republican on the committee. "People don't trust the enforcement of the law."
Mr. Grassley has offered 77 amendments, including one that was approved Thursday that would require continuous surveillance of 100 percent of the United States border and 90 percent effectiveness of enforcement of the entire border. Currently the 90 percent rate applies only to high-risk sectors of the border.
NEW YORK TIMES