Wukari Crisis: Unseen Elements Responsible For Fracas - Senator Bwacha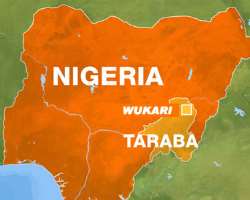 ABUJA, May 08, (THEWILL) - Senator Emmanuel Bwacha who represents Taraba South on Wednesday alleged that unseen elements were behind the last sectarian crises in Wukari, which claimed 39 lives.
He explained that the people of Wukari have been living peacefully together in the last six years.
Nonetheless, Bwacha urged the Taraba State Government to relax the curfew imposed in the area in the wake of the deadly clash.
The Senator made this disclosure at a press briefing held within the National Assembly.
It could be recalled that two months after an ethno-religious crisis claimed over 100 lives in Wukari, the town witnessed another bloodbath where 39 people lost their lives.
Wukari, according to the lawmaker, is a community where all faiths have been living together and relating peacefully for years.
"It is surprising that it took only one day for the same people to wake up and start fighting each other. It is definitely the handiwork of unseen elements.
"We condemn such acts, the God we serve does not need anybody to fight for him, we must learn to tolerate and live peacefully with each other. For how long shall people continue taking each others lives, this senseless killing is undesirable and must stop and we condemn it totally," he said.
He also confirmed that a commission of inquiry has been set up by the Taraba Government to look into the root cause of the matter.
''I spoke to the governor on the need to reduce the curfew because people are suffering and the government has promised to look into the root cause of the crisis to stop future occurrence. We have also been in touch with NEMA to access the level of damage as at now, nothing has been done yet," he explained.