Boko Haram Raids Army Barracks, Police Station, Prison In Borno, 55 Dead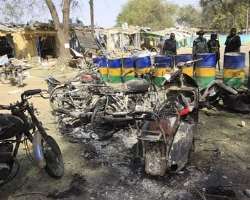 … Prison Commander, Chief Superintendent Beheaded, Woman Lynched

SAN FRANCISCO, May 07, (THEWILL) – At least 55 persons were killed early Tuesday morning when dozens of radical Islamists of the Boko Haram numbering about 300 raided a military base, the 202 Tank Battalion, Bama, Borno State, as early as 5am with the aim of taking it over but were repelled by the soldiers who returned fire for fire, killing several insurgents who managed to escape with the remains of most of those killed.

They were however unable to take away 13 of their members who lay lifeless and one other who was injured.

In a separate attack at a police station and prison, the Bama Prison Commander as well as his Chief Superintendent were beheaded.

It was gathered that while some of the sect members were attacking the army barrack which is on the outskirts of the town, their collaborators in the town, who were moving round the town in vehicles with the inscription, Bama Local Government Mass Transit Assisted Scheme, gave their assistance by attacking security facilities within the town.

Security facilities attacked, according to sources, included the police station, police barrack, mobile police station, prison and magistrate court in the town. They also descended on and killed any uniformed officer in sight.

At the prison, 105 inmates were freed as the insurgents beheaded the Prison Commander and the Chief Superintendent. About 12 other prison officials who ran for cover hiding in an isolated building were smoked out and killed.

A woman said to have been married to a police corporal a month ago was lynched at the police barrack. The barrack was also totally destroyed as well as the police station housing the offices of the Area Commander and the DPO.

The spokesman of the JTF, Lt. Col. Sagir Musa confirmed to THEWILL that 55 persons were killed in the multiple attacks in Bama.

He confirmed that 22 policemen, 14 prison officials, 13 Boko Haram, three children, two soldiers and a woman died during the attacks.

Sagir said most of the insurgents were dressed in army camouflage.