Provost and Bursar of Federal College of Agriculture Docked for Fraud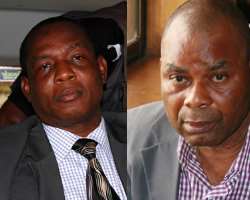 L-R: DR. PAUL AJAH ONU (FORMER PROVOST), AND MR. SAMUEL ATOI (FORMER BURSAR) OF THE FEDERAL COLLEGE OF AGRICULTURE, ISHIAGU, EBONYI STATE
SAN FRANCISCO, May 06, (THEWILL) - The Economic and Financial Crimes Commission, EFCC, Monday arraigned Dr. Paul Ajah Onu, and Mr. Samuel Atoi, former Provost and Bursar respectively, of the Federal College of Agriculture, Ishiagu, Ebonyi State before Justice Maureen Adaobi Onyetenu of the Federal High Court Abakaliki on a 4-count charge of conspiracy, abuse of office, fraudulent diversion and misappropriation of public funds.
The duo allegedly misappropriated over one hundred million naira of the school's funds. Their arrest, investigation and subsequent arraignment followed a petition by members of the institution's Senior Staff Association of Universities, Teaching Hospitals, Research Institute and Associated Institutions (SSAUTHRIA).
The union had alleged that the provost, with the help of some staff of the College, transferred excess funds from the staff personnel emolument account to other illegal accounts. The Provost was also alleged to have illegally awarded salaries and other fraudulent advances to himself; employed his wife and placed her on a level far above her qualification and experience.
Investigations by the EFCC revealed how over one hundred million naira was illegally transferred from personnel emolument account on recommendation of the Bursar to other accounts between 2009 and 2012 with the approval by the Provost, contrary to the provisions of the Financial Regulation. For instance, N100,000,000 meant for the construction of a farm guest house was paid into the account of FECAI Ventures ( a business unit of the college under the control of the provost). The fund was progressively depleted without the money being used for what it was intended.
When the charges were read to the accused persons, they pleaded not guilty.
The prosecution counsel, J.A. Ojogbane asked the judge to set a date for trial but J.O Asonuka, counsel to Dr. Ajah pleaded with the court to consider the accused persons' application for bail as their alleged offences are bail able.
The judge adjourned the case to Wednesday May 8, 2013 for hearing on bail application and remanded the accused persons in prison custody.