I AM AN ASSET TO THE WORLD; USE ME – TB JOSHUA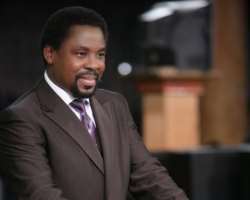 "I am an asset to the world, use me." These were the words of Prophet TB Joshua during the Sunday live Service 14th February 2010, while the world celebrated Valentine's Day; showering gifts and love on their loved ones. In what will turn out to be a big hit for the media in Nigeria, TB Joshua identified with the people of Haiti, who recently suffered a devastating magnitude 7.0 earthquake; leaving the children and survivors to suffer the pains of such a disaster.
He recalled how in the past few weeks he had repeatedly clamoured for prayers for a former president of a great nation of the world. These were the exact words that he said during the prophecy. "I can see a former president of a great nation being rushed to the hospital. He should not do any operation". I said it in November 2009, and I repeated it again in January 2010 and last Sunday (7th January 2010) because I saw that it was coming nearer.
True to his words, on Thursday 11th February 2010, the shocking news of the hospitalisation of former President of the USA, Bill Clinton hit the world with a rude shock. Several news networks reported that: "Doctors inserted two stents resembling tiny mesh scaffolds to clear the blockage after he suffered several days of "discomfort" in his chest following an aid mission to Haiti."
He stressed the role that men of God are supposed to play in the society, saying that he was sent by God to act as a medium of communication for humanity.
"There are qualities to be looked out for. It is very simple to identify a true man of God, there are yardsticks to be employed, and some of them are:
1. A man of God never looks the other way when his brother is in trouble
2. A man of God loves his neighbour and prays for those who persecute him
3. A man of God does not condemn
4. More to others, less to themselves; this is a way of life for him
5. The wound of others is theirs; they feel what others feel.
Demonstrating the true virtue of love, TB Joshua announced to the congregation that a member of the Emmanuel TV Haiti Relief Team was in the church auditorium to give a firsthand report of what the team was able to achieve at Haiti.
Mrs. Bester Mazombe a Zimbabwean residing in the United Kingdom, who is a professional nurse decided to accompany the Emmanuel TV Haiti Relief Team, because in her words: "I was touched by the appeal of Prophet TB Joshua for everybody to join in this cause to be our brother's keeper".
Continuing, she said: "Clinique Emmanuel has been a blessing for everyone in the surrounding areas. The people of Haiti are also watching and following Emmanuel TV from the internet – that was why they were very happy when they met the Emmanuel TV Team on the way. They realised that Prophet TB Joshua wants to share their pain with them.
As a Christian, we must feel what others feel for we begin to succeed with our lives when the hurt and trouble of others begin to matter to us. The Haitians rejoiced knowing that the Emmanuel TV Team had come all the way from Nigeria, The UK, USA and other parts of the world."