Monguno: Growing Concern Over Abducted Statesman's Health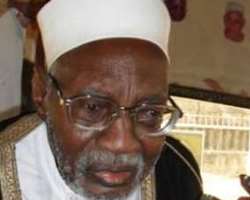 ELDER STATESMAN, DR. SHETTIMA ALI MONGUNO,
…Boko Haram: We Have No Hand in the Kidnap
SAN FRANCISCO, May 04, (THEWILL) – The family of the kidnapped elder statesman, Dr. Shettima Ali Monguno, has expressed concern over the sudden silence from the abductors of their patriarch and their inability to get through to him, saying Monguno takes his different drugs seven different times daily based on physician's prescription.
This came as Boko Haram said it had no hand in the abduction of the former Minister and statesman, maintaining that Monguno is a man they respect so much.
"The family is in possession of the drugs but cannot get them across to him," members of the family lamented on Saturday as they continued to host visitors who troop in to console them and offer prayers for his safe return.
The family was particularly concerned that since the demand for a ransom was made on Friday by the kidnappers, no further communication had been made with the family.
A family source told reporters at Monguno's family house in Maiduguri on Saturday that all attempts to get across to the kidnappers had not been successful as the mobile phone number with which they called the family on Friday had since been switched off.
Son of the kidnapped former minister, Rahaman, who was apparently worried pleaded with the abductors to consider the age of his father, his philanthropy and long time service to the community, nation and humanity.
He also called on Nigerians to pray and plead with the kidnappers to release his father .
Meanwhile, Borno elders have continued to meet and strategise on how to get the former Petroleum Minister freed. They have however kept mum on what their strategy is.
But the Borno State governor, Alhaji Kashim Shettima, who described the kidnapping of the former minister and elder statesman as sad , was said to have paid a visit to the residence of Monguno on Friday and promised that his government will do everything possible to get him freed from his abductors.
Monguno, who was a former minister of petroleum and first black man to chair OPEC, was kidnapped on Friday shortly after the Juma'at prayer in Mafoni, a densely populated part of Maiduguri, the state capital.
Meanwhile, the Special Adviser to Borno State Governor on Media and Communication, Alhaji Isa Gusau, has appealed to the abductors of the elder statesman to consider his age and waning health as a reason to immediately release him.
Gusau said the governor is still leading the concerted efforts to ensure the safe release of Monguno from captivity.
He said Shettima had expressed concern over the fact that Monguno may be without some drugs made of food supplements, some of which have remained his companion in the last 20 years or more.
Gusau said information reaching the governor through family members indicates that Monguno is hale and hearty.
Impeccable sources in the state however said the governor is opposed to any use of force to free Monguno from captivity, insisting that this might jeopardize the safety of the former minister.
A government source confirmed that Monguno spoke with his family members through his abductors and was said to be psychologically stable and in normal spirit as he was said to be the one consoling his family members, appealing to them for calmness and prayers.
"Don't get worried please, I am fine, just be saying lahaula wa la quwata illa billah, Allah is in control, nothing to worry about, I am fine, " the source quoted him as saying. The remarks of Monguno, it was learnt, immediately brought some relief to his family. The abductors are said to have requested that they needed some 'alms to help their course but didn't specify any amount. The source noted that while Monguno was being forced into a car, his abductors were said to be apologising to him, insisting they merely needed money and that they had to do what they did.
A source said Shettima left Maiduguri for Abuja on Friday night for an emergency meeting with the President and other stakeholders over the kidnap and other security concerns in Borno State. The Governor it was gathered was making frantic contacts and consultations over the matter.
All these are coming as Boko Haram declared on Saturday that it had no hand in the abduction of the former minister.
A man, who simply identified himself as Mallam Ali, claiming to be speaking for the sect, said they had unjustifiably been accused of a crime they did not commit.
He explained in a statement that Monguno was a man the sect had always respected and therefore sees no justification to kidnap him.