Nigeria rebels extend ceasefire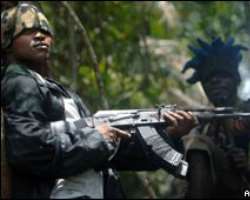 The main rebel group in Nigeria's oil-rich Niger Delta has announced that it is extending its ceasefire by 30 days.
The Movement for the Emancipation of the Niger Delta (Mend) said the move would allow more time for talks with the government on its weapons amnesty.
But Mend threatened renewed strikes on the oil industry and the Nigerian military if the group's key concerns were not met.
Mend's unilateral 60-day ceasefire expired at midnight on Tuesday.
The rebels have been fighting to drive the army out of certain areas of the Niger Delta and allow displaced people to return to their homes.
'Meaningful dialogue'
"The Movement for the Emancipation of the Niger Delta (Mend) is extending its unilateral ceasefire which expired midnight (2300 GMT), 15 September 2009 by 30 days," the rebels said in a statement.
"The government should use this extension of time to do the right thing instead of pretending to talk peace while arming the military for a war it cannot win."
Mend also said that did not recognise the government's weapons amnesty "that has not made any provision for meaningful dialogue on the root issues that gave birth to the Niger Delta unrest".
The Nigerian government has so far made no public comments on Mend's latest move.
In June, the government offered the amnesty to all rebels who laid down their weapons in the region.
Some militant leaders are co-operating, saying they want to return to civilian life.
One Mend leader has already dumped a large number of weapons, while two other are in negotiations to do the same.
But one Mend's faction warned earlier this week it would end the ceasefire.
The faction is widely believed to be led by Henry Okah, the man who was in jail for nearly two years.
Numerous attacks by Mend on installations in the Niger Delta in recent years have seriously disrupted the Nigerian oil and gas industry.