Siemens Curbs Outlook On Weak Industry Demand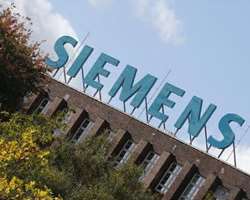 German industrial bellwether Siemens AG lowered its profit outlook for this year due to weak demand from industry and delays in delivering high speed trains and connecting offshore wind farms.
Siemens also stepped up cost cutting efforts to cope with the global economic slowdown, although it said four big deals had pushed orders back to growth after six quarters of declines.
The engineering group, whose products range from gas turbines to hearing aids, said it now expected net profit from continuing operations to reach the lower end of its outlook range of between 4.5 billion euros ($5.9 billion) and 5 billion in the current year.
Analysts in a Reuters poll had on average seen profit for the group's financial year through September declining to 4.8 billion euros from 5.2 billion last year, partly because of a 1 billion hit from its cost-cutting program.
In its fiscal second quarter, profit stagnated and revenue fell for the first time in two years on weak demand for industrial products such as automation and drive technologies as well as fewer sales of power plants.
Orders jumped 20 percent to 21.45 billion euros, beating consensus thanks to four major European orders for trains and wind farms. Orders in Siemens' bread-and-butter industry business were down by 11 percent.
"The figures confirm the impression we have of the sector so far this quarter. The market environment is tougher than companies had expected, forcing them to adjust their outlook," LBBW analyst Thomas Klee said.
Last month, General Electric warned of slowing profit growth in its industrial businesses, and Swiss industrial group ABB has said it would step up cost-cutting measures following a weaker than expected first quarter.
Siemens has put on the back burner a plan to increase annual sales by about a third to 100 billion euros and late last year launched a push to save 6 billion euros over two years.
It said on Thursday it was raising that target to 6.3 billion euros to make up for a weaker than expected 2013.
"The first half was not so bad in terms of our productivity measures, but unfortunately they are being wiped out by project charges and weakness in the short-cycle business," finance chief Joe Kaeser told analysts.
Manufacturing studies published last month had already fanned concern that the global economy is losing steam, as growth in Chinese factories slowed to a crawl, reflecting weak demand from a fragile U.S. economy and a euro zone mired in recession.
Siemens said it did not see industrial demand in China recovering before its fiscal fourth quarter but expected to benefit from the Asian economy's expansion into high-end manufacturing next year.
"There is reason to believe that this economy will make inroads into aerospace and automotive," CFO Kaeser told analysts, adding that systems and software to increase efficiency in factories, a major business for Siemens, would be a key area.
Siemens' quarterly results were weighed down by 161 million euros of charges related to delayed high-speed train orders, which it blamed on German red tape. Lesser charges stemmed from delays in connecting wind farms to mainland power grids.
Siemens aims to push up the margin on its core operating profit to at least 12 percent from 9.5 percent last year by cutting costs and focusing on its most profitable businesses. Among others, it plans to sell its water treatment business, postal automation and baggage handling and solar business.
By comparison, GE posted an operating margin of 15.1 percent last year and aims to further boost profitability this year. ABB, a major competitor to Siemens in power systems and industry automation, had a margin of 15.0 percent in its fiscal first quarter.
In its second quarter through March, Siemens saw its margin shrink to 7.5 percent from 9.9 percent as demand faded for higher-margin industry automation and drive-technology products.
REUTERS