Baga Residents Count Their Losses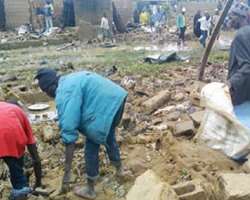 …We're Starving, Homeless and Still Burying Our Dead, They Say
SAN FRANCISCO, April 30, (THEWILL) – Residents of Baga, a border town in Borno State, where suspected members of Boko Haram clashed with the Multinational Joint Task Force (MJTF) last week, resulting into huge fatalities, are still counting their losses.

Complaining that they were still homeless and starving more than a week after the carnage in the town, they maintained that the much-publicised relief promised by the Federal Government had not reached many of them.
A visit to the town on Tuesday by a select group of journalists revealed a heavy military presence which made free movement nearly impossible with stern- looking security personnel on standby .
A fisherman who identified himself as Abdullahi Gumel told the journalists that "Things have calmed down for some days now; but we are still burying the dead almost everyday."
Gumel, who claimed that his home was destroyed in the carnage, said "It has been an everyday thing; we buried a man who died on Monday after he was found in the bush almost dead two days ago; we buried another one who suffered serious injuries without medication today.
"I have lost my house of over 45 years; I have not seen my 24 years old son, Idrissa, since the attack last week. I have nothing left, the cloth I am putting on was given to me by a friend. We need help, and medication, I suffered for six days in the bush before coming back."
Ibrahim Modu an old man in his 70s said he personally attended the burial of six of his neighbours a day after the fight.
"I lost everything in my house after soldiers came and set my house ablaze. They met me outside, walked into my house and put it on fire, after which they told me to leave so that I don't get burnt by the fire," he said.