Edo PDP Is A Political Liability, Oshiomhole Tells Jonathan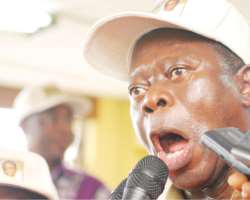 SAN FRANCISCO, April 30, (THEWILL) – Edo State governor, Comrade Adams Oshiomhole, Tuesday, told President Goodluck Jonathan in Abuja that the Peoples Democratic Party (PDP) had become a political liability in the state.
Oshiomhole, who also attributed his various successes over the PDP in Edo State to divine intervention, made the declaration when he visited the President at the State House for a private meeting.

Maintaining that God had used him to dismantle the ruling party in the state, despite being in power for 11 years, Oshiomhole said PDP had nothing to show for their long period of rule in Edo State.

Only recently, Oshiomhole had threatened to deal with his predecessor, Lucky Igbinedion and his father, Chief Gabriel Igbinedion, the Esama of Benin, within the confines of the law for allegedly constituting themselves into nuisance in the state.
Speaking with State House Correspondents after his meeting with President Jonathan, Oshiomhole said: "For 11 good years, PDP Local Governments had their way uninterrupted and they cannot boast of one school. Edo people are not fools, how will they vote for rouges?"
He observed that Edo people are disenchanted with the corrupt nature of the ruling party, particularly its penchant for using money to lure voters, saying he told the president that "those days are gone."
According to Oshiomhole, "All they have tried to do in this election is clear and that is what I went to tell the president."
The Edo State governor asked journalists "To recognise that what the PDP leaders have done here is to give the impression that rigging is inevitable.

"But they will be shocked that Nigerians are not in the mood for any rigging to take place. So, let me assure you that I remain committed to the principle of one-man-one-vote because that is irreducible minimum."
The governor accused the PDP of trying to create the impression that Edo was ungovernable. "They tried to use some criminals, some armed gangs to create trouble here and there and the police was looking the other way," he said.
Highlighting the achievements he had chalked so far, Oshiomhole said his administration had scored high marks in the areas of building roads, schools and provision of potable water while the PDP wasted its time earmarking money for projects that were never accomplished.
He recalled that last year when he contested the governorship election , he won in all the 18 Local Government Areas, including Chief Anenih's Local Government.
Oshiomhole said he performed a similar feat in 2007, although he indicated that his victory was delayed because the ruling party rigged the election.
The Edo State governor said his party, the Action Congress of Nigeria (ACN), clinched majority of the seats of the National Assembly and won 20 out of 24 seats in the state House of Assembly in addition to two senatorial seats.
"So, God has used us to dismantle the PDP in Edo State. If it is evil, it can't stand. Where is the strength of PDP?," he queried.
The governor explained that following the strings of defeat the party has suffered since he came into office "more and more people have defected from PDP because they were completely demoralised."
According to Oshiomhole, "The chief legal coordinator of the PDP candidate defected to ACN a month ago. The chief agent of the PDP gubernatorial candidate at INEC defected to ACN., citing their reasons as failure of the PDP to manipulate the election."
Oshiomhole also noted that he also floored the PDP in the Local Government elections "because we chose to fight on the side of democracy because that has been our lives."
According to Oshiomhole, "If an armed robber is complaining of being robbed, it is your choice as to how much weight to place on his complaints. The history of rigging election in Nigeria is as old as PDP.
"They have lived on it, they have perpetuated it, they have deepened it, they have feasted on it, and they have even celebrated it. I thank God He has used me and all other patriotic people to dismantle PDP rigging machine in Edo State."
He said when some PDP politicians were in cahoot with the military, he and his likes were busy fighting for the entrenchment of democracy.
"For us, it is not a choice that we launch the campaign of one-man-one-vote, we need it and without it Nigeria democracy is not on. And so when they are talking, I ask them a simple question and you can ask them, who among those talking came to Edo State to campaign?," he asked.
On the future of the Nigerian workers, the governor, who is a former leader of the Nigeria Labour Congress (NLC), said there is no question that things could be better.
He said the reward system is deliberately skewed against the commoner who earns peanuts while some few people, like the 'subsidy boys' exist as fat cats who do nothing but receive high pay.
"So in all of that, we should not forget that the central purpose of government, the essence at the heart of politicking and partisanship is the control of resources in order to allocate resources in a way that reflects the values of those who wield political power," he said .

Oshiomhole also advised NLC to concentrate on engaging, terminating and weakening the capacity of 'oppressors' by being resolute and united.
"And I like to remind NLC to use this opportunity to remind workers that it is not a time for lamentation, it is a time for engagement, practical engagement," he said.