Boko Haram Kidnaps Borno Water Board General Manager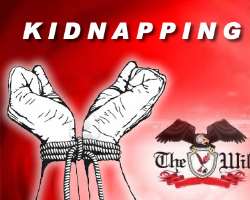 …JTF Recovers Snatched Police Bullet Proof Van From Gunmen in Yobe
SAN FRANCISCO, April 28, (THEWILL) – The General Manager of the Borno State Water Board (BOWB), Alhaji Baba Gujbawu, has been kidnapped by suspected members of Boko Haram in Maiduguri, the state capital.

The abduction in Borno came as the JTF in Yobe State said it had recovered a snatched police bullet-proof patrol van from Boko Haram gunmen in Gashua, a border town with Niger Republic.
Gujbawu, who was kidnapped Saturday morning, according to an eyewitness, was ambushed by a four- man gun-wielding gang of abductors as he was preparing to hold a meeting at the Water House on Laminu Way in Maiduguri .

"We were sitting here under this shade when four gunmen in an unmarked vehicle parked at the gate, before they forcefully bundled him into the vehicle and zoomed off to unknown destination of the metropolis at 7.35am. People started running for safety, as soldiers rushed to the scene to cordon off the area and prevent further attacks and killings in this area," the eyewitness said.

Gujbawu's abduction, which brings to six the number of major kidnapping cases in the state capital in recent time, actually lends credence to the disclosure by the Joint Task Force in Borno State, Operation Restore Hope, that the Boko Haram gunmen may have resorted to kidnapping for ransom as a way to raise funds for their terrorist activities.

Confirming the abduction of the Water Board General Manager, a senior police officer who spoke on condition of anonymity, said Gujbawu was abducted at gunpoint. He however lamented that no arrests have been made by either the JTF or police as they were still on the trail of the suspected gunmen.

Meanwhile, the JTF in Yobe State said it had recovered a snatched police bullet-proof patrol van along with other arms and ammunition from fleeing Boko gunmen in Gashua, a border town with Niger Republic.
An impeccable source at the JTF headquarters, Damaturu, the Yobe State capital, disclosed that the bullet proof patrol vehicle was recovered at Maluria village in the Gashua Council Area of the state, along with other arms and ammunition used in attacking the Police station and the Police Area Commander's office on Nguru Road.

A statement issued by the spokesman of the JTF in the state, Lt. Eli Lazarus, said the recovered bullet proof patrol van as well as the arms and ammunition were used in the attacks on the police station, bank and office of the Police Area Commander where N9 million cash was carted away by the gunmen who were dressed in police and army uniforms.
"Other arms and ammunition recovered include a general purpose machine Gun (GPMG), three K2 rifle, three pumps action rifle and a riot gun, two smoke pistols, four dane guns, two RPG bombs, 15 hand grenades and one air rifle, 1,200 rounds of 7.62mm special ammunitions three cartridges, several
police uniforms and accessories, 10 bullet proof metal plates and gas masks," the statement said.