Amaechi Describes Claims By Aviation Agencies As Cock And Bull Over Grounded Plane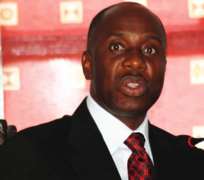 SAN FRANCISCO, April 27, (THEWILL) - The Rivers State Governor, Mr. Rotimi Chibuike Amaechi has described the claims made by the aviation agencies following the brief grounding of the Rivers State Government owned plane on Friday at the Akure International Airport.
The aircraft was however fully grounded by NCAA on Saturday over claims that it has been operating in the country illegally.
The agencies had earlier blamed the brief grounding of the plane on the pilot, which they claimed failed to file a manifest and proper documentation.
But Amaechi in a statement Saturday, signed by his Chief Press Secretary, David Iyofor, described the defence by the agencies as "cock-and-bull."
"Our plane, a Bombardier jet owned by the Rivers State Government, landed at the airport in Owerri. It was in Owerri that the pilot of our plane was first tipped off that there is a plot to ground our plane in Owerri that Friday
"Fortunately for us, we took off from Owerri airport and arrived at Akure airport en-route to Ekiti for the burial of the Deputy Governor of Ekiti State Funmilayo Olayinka without any incident.
"On the flight to Akure was the Speaker of the House of Representatives, Rt. Hon. Aminu Tambuwal, whom we met in Imo State and who was also heading to Ekiti for the burial of Mrs. Olayinka.
"Also on the flight were the Governor of Rivers State; the Director-General, Nigeria Governors Forum (NGF), Asishana Bayo Okauru; Kalabari Prince and politician, Prince Tonye Princewil; and some aides of the governor."
"Once our party left the Akure airport for Ekiti, our pilot went to the airport offices to make statutory airport payments and fees, file his flight plan and declare his manifest. After filing his fight plan and declaring his manifest, our pilot was told to go and see the Controller.
"The Controller bluntly told him that the Rivers Government plane would not be allowed to leave the airport. In other words, the plane had been grounded!
"He said that the plane should have been grounded in Owerri. The Controller on duty at the airport in Akure mentioned some vague issues relating to the customs papers of the plane, which has been flying in Nigeria for many months? That didn't make any sense to the pilot.
"He enquired on whose orders the plane was being grounded, he was told that it was the Managing Director of the Nigerian Airspace Management Authority (NAMA). And that he should reach the NAMA MD.
"It is indeed most shameful and ludicrous that NAMA and the Aviation authorities are now saying that they grounded the Rivers State Government plane because the pilot did not file a flight plan and declare a manifest. That's a blatant lie," the Chief Press Secretary said.