2013 International Christian Business Exhibition and Conference will be Huge ~ Onochie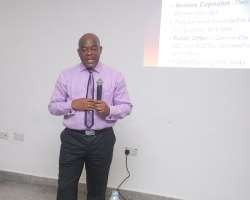 The Director of Port Harcourt Chamber of Commerce Trade, Promotion, events and Tourism Directorate, Mr. Uche Onochie has said the third edition of the eagerly awaited International Christian Business Exhibition and Conference, (IC-BEC 2013) is expected to be huge and massive. Onochie who is the President of Market Place Apostles Empowerment Foundation organizers of the event gave this indication while speaking to newsmen about the event that has come to attract both local and international audience. He said this year's event is expected to commence from the 28th to 31st August 2013 and shall be staged in two major halls of Hotel Presidential, the Atlantic Hall for the exhibition, while the main banquet hall would be used for the conference.
Speaking on what he aims to achieve he said the objective of the International Christian Business Exhibition and Conference is to create an enabling environment for Christian business owners and executives to show-case their products and services to the public, adding that expectation is basically to provide a platform where Christian participants from around the globe with the mind-set of interacting with other Christian business persons in our country can come together and explore vistas of opportunities that abound.
Onochie explained that the workshop sessions will be handled by notable conference speakers, resource persons from around the world who has the knack and burning desire to release change agents into our society.
Mr. Uche OnochieDirector, PHCCIMA Trade, Promotion, Events & Tourism Directorate