Four Persons Killed, Over 10 Houses Destroyed In Renewed Communal Clash In Eket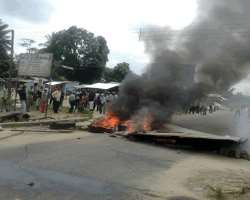 SAN FRANCISCO, April 26, (THEWILL) - No fewer than four persons were killed, Friday, in Eket, Akwa Ibom State, in a renewed communal clash between the Esit Urua village and Mkpanang communities in Eket and Ibeno Local Government Areas of Akwa Ibom State, in which over 10 houses and property worth millions of naira were destroyed.
The clash, according to sources, started when bulldozers were seen clearing the disputed portion of the boundary between the two communities.
An eyewitness said trouble started when youths of Esit Urua, on sighting the bulldozers on the disputed land, moved in to see why the land was being cleared but were greeted with stiff reaction by youths from Mkpanak village who appeared to have prepared for war.
It was gathered that the site clearing was allegedly done at the instance of Mr. Okpolupum Etteh, a member representing Ibeno in the state House of Assembly, for the establishment of a police station.
And as the fight erupted, more youths from Mkpanak village were mobilised to attack the Esit Urua village resulting in the death of the four persons even as eight others were injured while many others fled the community to take refuge in nearby towns.
The clash has however paralysed all commercial activities in and around Ibeno, which is the headquarters of ExxonMobil, as over five trucks of soldiers from the 6 Amphibious Battalion, Ibagwa, Joint Military Task Force codenamed, Operation Thunder, had taken over the two warring communities and all adjoining roads to the Mobil head office.
It will be recalled that a similar clash had occurred in 1993 when several houses were burnt and over 150 persons were allegedly killed.
The Federal Government was to respond then by setting up the Justice Akpata Panel of Inquiry to look into the immediate and remote causes of the crisis. It was gathered that though the panel had submitted the report on the incident since 1994, the White Paper has not been released by the Federal Government.
Confirming the incident, however, a youth leader in Esit Urua village, Mr. Michael Bassey, lamented that the situation could have been averted if the Ibeno people did not provoke the Esit Urua people to fight.
Reacting to the incident, the paramount ruler of Eket, His Royal Majesty, Obong Nathaniel Oduenyie, called on the warring villages to sheath their swords, urging them to remain calm.
Police Public Relations Officer, Akwa Ibom State Command, ASP Etim Dickson, who also confirmed the incident, said the situation had been brought under control.
Meanwhile, a peace meeting of the warring villages has been organized by the Divisional Crime Officer in the area to find a lasting solution to the crisis.