Remarks With Nigerian Foreign Minister Olugbenga Ayodeji Ashiru Before Their Meeting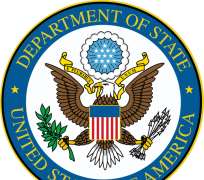 WASHINGTON, April 25, 2013/African Press Organization (APO)/ -- Remarks
John Kerry
Secretary of State
Treaty Room
Washington, DC
April 25, 2013
SECRETARY KERRY: Good morning. I'm very happy to welcome His Excellency, Foreign Minister Ashiru of Nigeria. We have a close association, close working partnership, and Nigeria is a very important leader within the African Union as well as the Economic Community of West African States.
Unfortunately, they are facing some tough violence in the northern part of the country, which we condemn, and we join with them in helping to fight against extremism. And we're appreciative for their support on any number of issues, from economic leadership to energy leadership, security. We have a lot of work to do and a lot to talk about. So I'm happy to welcome you here. Thank you.
FOREIGN MINISTER ASHIRU: Thank you, Your Excellency. I'm happy to be here to meet with the U.S. Secretary of State. It's a very important meeting for us. We appreciate the strategic partnership we have with the U.S. And we believe that as a leading country in Africa, we can bring so much in terms of the maintenance of peace and security on the continent, which we do on behalf of the UN Security Council and also the United States.
There are many challenges we face in our country, which the Secretary of State has already mentioned. And we believe that with the support of the U.S., we will overcome the challenges in the not too distant future. And we hope in our meeting today we'll be able to discuss all the areas to further improve on our bilateral relations with the U.S. The U.S. is now an important partner, and we will continue to work to strengthen the partnership we have with the U.S. I thank you.
SECRETARY KERRY: Thank you, sir. Thank you, my friend. I appreciate it very, very much. Now we're going to go to work. Thank you.
FOREIGN MINISTER ASHIRU: Thank you.