Russia's Putin Signals Will Not Sack PM Over Economy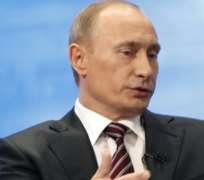 Russian President Vladimir Putin played down differences with his government over economic policy on Thursday and signaled he was not about to respond to calls to dismiss his prime minister.
There has been speculation for months in the media and among political analysts that Putin, back in the Kremlin since last May, could make Prime Minister Dmitry Medvedev a scapegoat if Russia's economy continues to slide towards recession.
But in response to a question at a nationwide phone-in that was broadcast live, Putin said: "There is no division between the government and the president, or the presidential administration (on the economy)."
He acknowledged there may be a lot of complaints about the government's work but, indicating it needed time to prove itself, he said: "The people have only been in their jobs a year."
Putin, 60, was taking part in his first phone-in with the Russian public since replacing long-time ally Medvedev as president after four years as prime minister. The former KGB spy has dominated Russia as president or premier since 2000.
The phone-in has been an almost annual event since 2001, and Putin has often used his marathon performances, answering questions on anything from pensions to foreign policy, to show he is in control of the country of more than 140 million.
He was expected to use this year's call-in to show he has reasserted his grip on Russia after it came under threat just over a year ago during the biggest protests since he first rose to power. The protests have since dwindled.
Putin said earlier this week that Russia must adopt stimulus measures to improve economic growth, acknowledging that it risked sliding into recession because of falling commodity prices which had affected its main exports.
But Putin and Medvedev have been allies since working together in the St Petersburg city administration in the 1990s.
Russian television said almost 2 million people had sent questions to Putin by phone, email or text messages.
Opinion polls generally show Putin enjoys much more support than most Western leaders but also that his popularity has dropped since its peak in his presidency from 2000 until 2008.
REUTERS