Senate Excludes Vehicles With Factory-Fitted Tinted Glass From Ban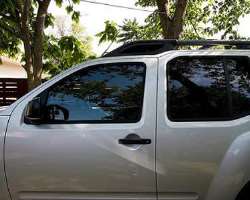 ABUJA, April 24, (THEWILL) - The Senate on Wednesday threw its weight behind Nigerian vehicle owners with factory-fitted tinted glasses. 


The move would insulate such categories of motorists from the general ban currently being enforced by security agencies.
The Nigeria Police is hot on the heels of motorists driving vehicles with tinted glasses, but insists that those driving factory tinted ones must obtain Police permit.
The Senators' action was sequel to the passing for second reading a Bill for an act which provides that any person who buys or imports a car with a factory-fitted tinted glass shall make such representation to the Inspector General of Police concerning registration of such a factory fitted tinted vehicle within 90 days of the importation of the vehicle to obtain a waiver. 

The Bill was referred to the Committee on Police Affairs and Judiciary and the Committee is expected to report back to the Senate in two weeks. 


Leading debate, the Bill's sponsor, Senator Ita Enang (Akwa Ibom, PDP), said giving any person permit to drive a factory tinted glass vehicle which he bought or imported will ensure that the person drives such a car without fear of being harassed or discriminated against.
Enang argued that extending the days within which one is expected to get the permit from 14 days to 90 days will also make the process easier for the applicants.
''Consequently, Section 4 of the Act is amended to make any person who commits an offence under this act to be liable on conviction to a fine of N50, 000 or to an imprisonment to a term not exceeding six months or to both such fine and imprisonment because the fine of N2, 000 which was sufficient then in 1991 is now too weak for the offence. It is also to prevent the offence from being used as another milking point for unscrupulous elements along the highway,'' the Senate said.