2011 Christmas Day Bombing: Kabiru Sokoto Pleads Not Guilty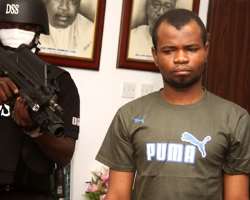 MALLAM KABIRU UMAR A.K.A. KABIRU SOKOTO, SUSPECTED MASTERMIND OF THE 2011 CHRISTMAS DAY CATHOLIC CHURCH BOMBING IN MADALA
SAN FRANCISCO, April 19, (THEWILL) – The suspected mastermind of the 2011 Christmas Day bombing at the St. Theresa's Catholic Church in Madala, Niger State, Mallam Kabiru Umar, also known as Kabiru Sokoto, has pleaded not guilty to terrorism charges brought against him by the State Security Service (SSS).
In his defense on Friday at a Federal High Court in Abuja where he was arraigned, Sokoto, who spoke through an interpreter, pleaded not guilty to the charges read and interpreted to him in Hausa language.
After taking his plea, the trial judge, Justice Adeniyi Ademola, who adjourned the trial to May 2, 6 and 9, however directed Kabiru's lawyer, Mr. Ibrahim Adamu, to be ready with every material as well as the list of defense witnesses required for his client's defense and to serve a notice to the prosecutor, Ms. Chioma Odimegwu, before the adjourned trial date to ensure a speedy trial.
Justice Ademola further directed that Sokoto, who faces a life sentence if convicted of the alleged crimes, be remanded in Kuje Prison and that his lawyers be allowed unhindered access to him for the preparation of his defense.
The court further took notice of Kabiru's wife and two young children, who were in court to see their father whom they had not seen since his arrest and detention, and ordered that the prison authority should immediately allow the family of the accused to have access to him.
Sokoto is standing trial on a two-count charge of terrorism by allegedly planning and encouraging his boys who are said to be at large, at Mabira Sokoto in Sokoto State, to bomb the Police Headquarters in the state between 2007 and 2012.
He was also alleged to have been in possession of information about the bombing of St. Theresa's Catholic Church on December 25, 2011, but failed to disclose it to law enforcement officers within a reasonable time to forestall the incident.
He is therefore said to have committed an offence contrary to section 7 (1) of the Terrorism Prevention Act 2013 and punishable under section 33 (1) of the same Act.