The day I almost made Obasanjo weep – Ajobiewe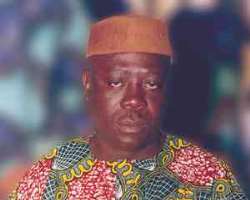 Sulaiman Ayilara Aremu, a.k.a Ajobiewe
Among the Yoruba, Sulaiman Ayilara Aremu, popularly called Ajobiewe, is widely known as a gifted praise singer. With a microphone in his hand, he could hold a listener spell-bound as he takes an excursion into the widely forgotten past of different lineages in the Yoruba race, from Ibadan, Ile-Ife and Osogbo to Oyo, Abeokuta and Ilorin. Knowledge and fluency with which the Ila-Orangun-born griot glides through different historical conquests recorded by different towns and villages in Yorubaland is superb.
His skills have endeared him to many, including Nigeria's ex-President, Gen. Olusegun Obasanjo.
Ajobiewe proudly recalls the day his rendition of Obasanjo's family praise poetry broke the latter's widely acknowledged tight fist and almost made him to cry like a baby. Those were the days when Chief Olusegun Osoba held sway as the governor of Ogun State and Obasanjo paid the state an official visit as the President.
Both the governor and his guest were in aso ebi (uniform), and Ajobiewe had been recruited by the organisers of the visit to chant their praise.
He said, "When I started chanting Obasanjo's family praise, citing his pedigree, he held his head in his hands and stared at me. His eyes were misty, ready to shed tears. By the time I finished chanting his praise, he called me and gave me N40,000, announcing to the crowd that I was the first artiste he would give money,"
But Obasanjo is just one in the long list of eminent persons with whom Ajobiewe has found favour on account of his dexterity in the art of praise singing. For example State governors are known to have showered him with gifts in forms of money and material things.
"If I tell you what Osoba and Tinubu have done for me in promoting my career, you will not believe it. In fact, I can tell you that I am what I am today because of what these two great sons of Yoruba have done for me. Apart from financial assistance, they recommend me to people whenever they are organising any cultural ceremony. They tell me that they admire my effort at sustaining the Yoruba culture. With their encouragement, I have waxed about three albums purely on the oriki of different peoples in Yorubaland and its environs.
"One day, a famous lawyer in Ibadan invited me to his office. He didn't know me physically, but he said he would like to meet me and appreciate my effort.
"On the appointed day, I went to meet him. When I got there, he embraced me and praised me to high heavens, recounting how my efforts had helped to sustain Yoruba culture.
"He then said he wanted to show his appreciation by encouraging me with a token. Guess how much he wrote in the cheque he gave to me, two million naira!
"To say that I was shocked would be an understatement. This is someone who didn't even know me but only admired my art,"
But while Ajobiewe reels out the various exploits he has wrought and the admiration he has won along the line, the poet would never forget the day he nearly lost his life as a result of his art. An event that began on a note of entertainment ended on a near tragic note.
He said, "I was contracted to perform at a burial. One of the children of the deceased who was based abroad had objected to my invitation to perform at the ceremony. He said he couldn't see any value my presence would add to the ceremony.
"But some other children of the deceased persuaded him to allow me to perform, saying that he was free to stop me if he was not impressed by my performance.
"By the time I started chanting his praise and recalling his pedigree, he stood transfixed. He just stood there and stared at me. I am sure that every strand of his hair stood. Because by the time he regained himself, he began to spray money on me until he exhausted all the money he had been given on the stage. After that, he ran off stage, removed his dress, his shoes and his wristwatch and gave them to me. Still, I continued. Now extremely overwhelmed and knowing not what to do, he suddenly ran inside. By the time he came out, he wielded a big cutlass and was coming menacingly towards me. I thank my stars that I was quick to vote with my feet and fled the venue. It was not a funny scene at all, because I had to leave town that very night,"
The skilful poet attributed his proficiency to his tenacity in acquiring more knowledge about the art after the initial inspiration he got from his late father. According to the artiste who took to acting very early in life, his father was famous for his ijala (hunters' ode) and egungun (masquerade) chants in his life time.
"But at that time, there was no money in it," he recalled. "I remember that in those days, he only did it to while away time. But I was close to him and was taking more than a passing interest in what he was doing. After my father died, I travelled far and wide. There was no major town in Yorubaland that I did not live in order to learn one thing or the other about their history. That is why I find it easy to chant the oriki of any tribe, even outside Yoruba. Lagos will be the 22nd town I would live in my quest to learn about the culture and customs of Yoruba people
"I had trained as a baker and this gave me the opportunity to move from one place to another. As a baker, all I needed to stay in a place was the presence of a bakery in the town. I would look for employment and put myself permanently on night shift. During the day, I moved around town, looking for places where they played ayo and people who I felt were knowledgable in culture and tradition. As a baker, I enticed them with gifts of loafs of bread and they would go to lengths to tell me stories that were peculiar to their towns.
"Apart from Oshogbo where I spent years, I spent months and one or two years in other places like Abeokuta, Okuku, Ijebu Ode and Ibadan, among others.
"My father put me in school, but I was not bright enough, because I spent 10 years in primary school before I left to learn bakery, which I combined with acting. I joined various theatre groups where I horned my skills as a chanter, actor and dancer. I was a baker for a long time until I stopped altogether to face my art squarely, and I thank God that I have no regrets."
Given his dexterity as a chanter, one could be tempted to think that the bulky ewi exponent must be a member of a secret cult. But he would not hear of such insinuations. "By the special grace of God, I am a Muslim. I don't combine any practice with my religion. I don't know anything about being a traditionalist in that sense. For Yoruba culture, I will say I have dug a bit far, but that does not translate into being a herbalist," he said.
Ajobiewe laughed heartly at the suggestion that he must have a harem, not just because he is a popular artiste among the Yoruba, but also because his religion allows him to have more than one wife. He said he would not quarrel with anyone who wants to acquire many wives, but he he is satisfied with just one woman whom he married when he was 30 years old.
"While I was moving about during my research, it was not possible for me to be involved with women. It was after I had settled down in Lagos for a couple of years that I got married at the age of 30 years. I am satisfied with my wife.
People may perceive me as the usual artiste, but I am not like that. I don't smoke, I don't drink; not even soft drinks. I don't have time for clubbing. My only problem is food.
"Those who are close to me will tell you that Ajobiewe does not joke with his stomach.
When I am hungry, I don't hear anything. Because of this, as early as 7 am, I have my breakfast. And if you meet me where I am eating, you might think I am not a normal human being because of the quantity I devour. That is my weakness."