Nigeria Not A Failed State, Says Onaiyekan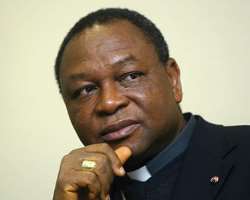 ARCHBISHOP OF THE ABUJA CATHOLIC ARCHDIOCESE, JOHN CARDINAL ONAIYEKAN
ABUJA, April 16, (THEWILL) – The Archbishop of the Abuja Catholic Archdiocese, John Cardinal Onaiyekan has declared that Nigeria is not a failed state as being insinuated.

Onaiyekan also maintained that in granting amnesty, the federal government must continue to pursue all avenues for dialogue with the terrorist group Boko Haram and relevant stakeholders to halt the deadly terror campaigns.

Speaking for himself and his co-awardee the Sultan of Sokoto, His Eminence, Alhaji Sa'ad Abubakar, at Tuesday's Leadership Newspaper Conference and Awards ceremony held at the International Conference centre Abuja, the Catholic leader, rejected allusions that Nigeria was going the way of a failed state. Instead, he canvassed for a "radical renovation" and not a "dismantling" of the country as bandied in some sections. He identified corruption and insecurity as "monsters" Nigeria must deal with to achieve its lofty goal of national development plans.

The Sultan had while introducing Onaiyekan, told the audience that it has been their tradition to defer to each other; we agreed that whatever each of us says represents our opinion. That has been our tradition even in the Nigeria interfaith committee, which both of us co-chair. So in this occasion I and my brother, John Cardinal Onaiyekan have agreed that he should speak for both of us."

Continuing the Catholic Bishop said, "What we need in Nigeria is a radical renovation. I hope the transformation agenda of the government is just more than words. Nigeria is not a failed state. I see a failed state in Somalia and I cannot say that about my country. We still have time to make amends and we can still hold on. When people in government tell me they are doing their best, I always remind them that their best can never be good enough. The rest of the black race is looking up to us. If Nigeria fails, which other black nation can succeed? We have what it takes to succeed. All it takes to succeed is good leadership.

"Two of the obstacles before us which we must resolutely confront are corruption and insecurity. When I talk about corruption, I am not talking about small bribes, but big, legal and official corruption in high places. We are hearing of billions of dollars being stolen. The people of Nigeria are being deprived of their belongings. It is no longer a rumour that our monies are being stolen. This stealing must stop. No more cover up or pretense. Stolen resources must be recovered and returned. We should pardon our thieves, but they must return the loot."

On Boko Haram, he insisted that attacks by the notorious Boko Haram sect had what he tagged a 'religious dimension'.

Onaiyekan was responding to Niger State Governor, Mu'azu Babangida Aliyu who rejected Boko Haram's tag as an Islamic organization. Aliyu had in his lecture "Rebuilding Nigeria" maintained that the sect is in no way Islamic in nature and in fact, has no connection to Islam as a religion.

Onaiyekan's words: "Insecurity is everywhere. But how do we deal with it? We need all hands on deck. Political forces must link hands. Enough of accusations. As far as Boko Haram is concerned, there is a religious dimension. Those of us who believe in religion must find a way of increasing our dialogue. We must offer our own solution. The present debate on amnesty is very healthy. It is okay. Government must bring all the stakeholders together. Insecurity is difficult because there is corruption. We don't deny there are serious differences among us. But I don't believe that it should divide us. This country is a model for the world on how Christians and Muslims can live together in peace and harmony."