Security, AU Jubilee Top Agenda As Jonathan Meets Zuma in Abuja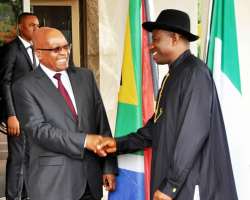 PRESIDENT GOODLUCK JONATHAN WELCOMING PRESIDENT JACOB ZUMA OF SOUTH AFRICA TO THE PRESIDENTIAL VILLA ABUJA. APRIL 16, 2013
SAN FRANCISCO, April 16, (THEWILL) – Ahead of his visit to South Africa next month, President Goodluck Jonathan, Tuesday, hosted his counterpart from that country, President Jacob Zuma, to a private meeting in Abuja.
Top on the agenda at the meeting were issues bordering on insecurity on the African continent and the forthcoming golden jubilee anniversary of the African Union, hitherto known as Organisation of African Unity (OAU), were discussed.
The two leaders also deliberated on how to strengthen bilateral relations between the two countries and ensure peace within the African continent.
Only last week, President Jonathan confirmed that the relations between Nigeria and South Africa have been generally cordial and would be deepened and strengthened.
He said the two countries constitute a strong force to reckoned with on the African continent and would cooperate to promote the interests of the continent at regional and global levels.
Jonathan had also called for the strengthening of the Nigeria-South Africa Bi-National Commission as he described the African National Congress (ANC) as one of the best organised political parties in Africa.
Zuma, who came into the country from Algeria at about 1 pm and met with the President for about 45 minutes, is expected to host President Jonathan next month in South Africa where their discussions on Tuesday are expected to be firmed up.
In a chat with State House Correspondents after the meeting, the South African President said he was in Nigeria to consult with President Jonathan on issues affecting the two countries and the continent.
He expressed the need for the two countries to harmonise their thinking to move the continent forward, stressing that their discussions were fruitful.
"We are here to consult on matters related to the two countries and the African continent. As you know, very soon His Excellency the President will be visiting South Africa on a state visit and therefore, a lot of other issues that will necessarily be dealt with. We thought we needed to consult particularly the situation in the continent.
"We have had a very fruitful consultation and we believe that between Nigeria and South Africa, it is important to align and harmonise our thinking on matters that need the countries in the continent to take specific decisions.
"Some of the issues raised were issues of security of the continent as you know that there had been some difficulties in a number of the countries. We touched upon those issues and certainly take the issues further when we meet in South Africa.
"But you are also aware that Africa will also be celebrating 50 years of the OAU and African Union establishment in the continent. We have had a very fruitful discussion," Zuma said.